Leavenworth team wins cookoff title
On the first weekend in May, Joe Denny usually loads up his barbecue smoker and drives from his home in Leavenworth to Topeka for the annual Hank Lumpkin Memorial Red, Hot & Wild barbecue contest.
"But with gas at $3 a gallon and this being right here in Lansing, we decided to bypass Topeka and support our local contest," Denny said Saturday afternoon
Photo Gallery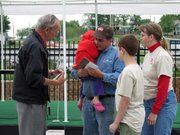 Second annual Brew, Blues & Bar-B-Que Cook-off
The second annual Brew, Blues & Bar-B-Que Cook-off was contested Friday and Saturday, May 5 and 6, at Lansing's Towne Center. Thirty teams from Kansas and Missouri participated. By the time the smoke cleared, Jumpin' Joe's Bar-B-Q of Leavenworth was judged the cookoff's grand champion.
And is Denny glad he entered Lansing's second annual Brew, Blues & Bar-B-Que Cook-off. His team, Jumpin' Joe's Bar-B-Q, took home the grand champion title, about $1,700, a "state championship" title and the chance to compete in the American Royal Invitational this October.
It was, Denny said, his first overall championship in seven years of competing in barbecue contests.
Jumpin' Joe's took first place in the pork butt category and also collected points for the grand championship by earning ribbons in beef brisket (fourth place), pork ribs (fifth place) and chicken (sixth place).
"It's the first time I've ever ribboned in all four categories at the same contest," Denny said.
So what was Denny's secret this past weekend?
"I don't know," he said. "It just all seemed to come together. We just did all the same things we always do."
Assisting Denny were his wife, Janice, sister-in-law Theresa Grenier, and the Denny children, Mike and Michelle.
Brew 'N' Bar-B-Q of Shawnee, with Chris Cox as team captain, was the cookoff's reserve grand champion. Brew 'N' Bar-B-Q placed in the top 10 in three categories: pork ribs (eighth), pork butt (sixth) and beef brisket (second).
Other category winners were: Wonderful Walt's Magical BBQ, chicken; Ribs & Racks, pork ribs; and Lazy Ass BBQ, brisket.
New to this year's Brew, Blues & Bar-B-Que Cook-off was a People's Choice award. Entrants submitted a separate pork butt for the contest, which was judged by 175 visitors who paid $5 to sample the 29 entries and vote for their favorite. The People's Choice winner was Wonderful Walt's Magical BBQ.