Main St. fixture to close doors later this month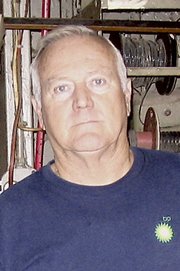 A Lansing landmark for the past 17 years is about to close.
Lansing BP, 200 N. Main St., will close its doors and turn off its gasoline pumps on May 26, said station owner Jim Driscoll.
"I was going to retire next year," Driscoll said. "But with this road construction out here on Main Street and these high gas prices, I just decided to retire now. It's no big deal."
The station is the only one in Lansing that still offered a full-service island, where workers would come out to fill up a customer's car, check the oil and wash the windshield. Driscoll also offered mechanic's services.
"I have met many people over these years and sincerely thank all of my friends and acquaintances," Driscoll wrote in a notice he copied and posted around the station.
Driscoll said he had been in business at the site since 1989; at the time the station operated under the Standard sign, then changed over to Amoco and finally BP after British Petroleum and American Oil Co. (Amoco) merged.
Although he's closing the station May 26, Driscoll said he would continue to be around for a few days afterward, clearing out tools and other belongings. The building is owned by the McEvoy family, and Driscoll's lease expires June 1.
Driscoll said he doubted another gasoline station would open on the site anytime soon.
"With all that going on out here?" he said. "I kind of doubt it."