Main Street start date nears
Massive project tentatively slated to begin May 20.
As the launch of the Main Street System Enhancement Project draws near, key players are working to ensure the project's timeline and the availability of information about the project to residents.
Though many specifics will remain tentative to allow for unexpected delays or bad weather, there is one certainty: The project is in experienced hands.
"This isn't the first time we've done this," said Russ Stark, vice president of Leavenworth Excavating and Equipment Co., the project's contractor.
The $15 million project calls for widening Main Street from Connie to Ida streets to include a center turn lane, rebuilding the bridge over Seven-Mile Creek, reconstructing medians from Gilman Road to Ida Street and constructing a "reverse frontage road" north of West Mary Street to West Kansas Avenue.
With utility reloacations winding down and weather permitting, the project will begin May 20, when the southbound lanes of Seven-Mile Creek will be closed and traffic divided between the two lanes remaining open. In the next two years, lane closings along Main Street may cause traffic bottlenecks, but the street will never be entirely closed.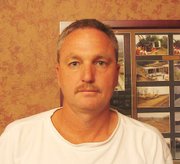 Stark has been with the heavy construction company nearly 22 years and is familiar with the impact that such prolonged road construction has on a community - and on the company's employees.
"Everybody's patience is going to be tested," he said. "We're going to be working six days a week, and there is going to be some night work."
It is in everyone's best interest for these types of projects to progress quickly, Stark said. Lexeco's $10.17 million contract with the Kansas Department of Transportation includes harsh penalties for each day the company goes beyond four scheduled deadlines. Construction must be completed by Nov. 1, 2007, and all cosmetic work, such as painting road markings, must be completed by May 16, 2008.
But efficiency is already a major concern for companies like Lexeco, which can spend thousands of dollars per day just on fuel. Stark estimates that between $3 million and $4 million of heavy equipment, many of which bring new meaning to the term "gas-guzzler," will be deployed for the parts of the project.
"Each one of them (burns) $20-30 of fuel per hour," Stark estimated, adding that because of recent fuel prices, "It can be double that now."
Constructive praise
Lexeco, which was founded in 1958, has received praise from many previous clients. Paul Gripka, field engineer administrator for the Kansas Department of Transportation has seen work Lexeco has done in Leavenworth and Wyandotte counties.
"I really don't have anything bad to say about them," Gripka said. "We've had good luck with them."
He said they have already shown initiative on the Main Street project.
"They seem to be fairly well-organized and able to do the work," he said. "So far, they look like they're taking a good lead as far as stepping ahead and trying to make sure the utilities get finished doing their relocation ahead of the work."
Similarly, Joe Venneman, construction projects supervisor for Johnson County Public Works, had only praise for the company.
"I would have no problems working with Lexeco. I think they are a good company to work with," Venneman said. "I think they always did what it takes to pretty much stay on schedule."
Point man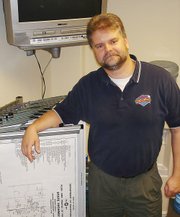 The other source of contact for residents is Ken Miller, the liaison for the Main Street project. One of Miller's sole purposes during the next two years will be to keep residents in touch with information about the project and to address any concerns that they have about it.
Miller has been working in public relations for more than a decade and was formerly employed by KDOT to address issues across the entire state. He's prepared to respond to the concerns of Lansing residents and has already established a hotline for Main Street updates that anyone can access by calling 727-3286.
Miller's strategy for helping residents through the project?
"Listen. Listen first. Let people explain either what their question is or what their problem is," Miller said. "If you're not listening, you're not learning."
His advice to locals echoes Stark's.
"Be patient," Miller said. "When this project is finished, Lansing is going to be better than ever."