Psychology studies next for
LHS

senior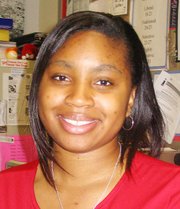 Megan Smith enjoys her job at Saint John Hospital, where she works in food service and previously was a candy striper.
The Lansing High School senior has seen all aspects of the hospital - she's worked in the emergency room and she's served food to maximum-security prisoners who are there for treatment. But her favorite place to be is the senior behavioral health center.
"You have to be very patient," she said.
In that area, Smith said she just likes to talk, or listen, to the patients.
"Some are really emotional," she said. "You have to try to make it their comfort zone."
Smith said she has a lot of practice in listening. Her friends often come to her when they need comfort.
"I've been told that I'm pretty good with counseling people," Smith said. "I've been this way every since I was little."
Now, she hopes to put that natural talent and interest to use - Smith will attend Washburn University in the fall and plans to study psychology.
"I just want to know why people do the things that they do," she said.
Preparing for graduation sometimes takes a toll on Smith. She said she missed her mother, who died of lung cancer when Smith was in sixth grade.
It's of some comfort working at the hospital, where her mother was a nurse.
"They say I'm just like her," Smith said.
Megan Smith
Guardians: Walter and Regina McCullum
Favorite teacher ever: Every teacher because each one impacts my life in a different way.
Best advice received: "You don't plan to fail, you fail to plan." - uncle Bruce Davis
What she'll miss most about high school: Just being a teen and a student. I'll miss the administration and teachers because they have supported me in all that I have done.