Soldier's mom, boss find success with 'Operation Iraqi Children'
A shipment of toys, school supplies, candy, blankets and cash soon will be on its way to Iraq, thanks in part to the mother of two Lansing High School graduates who are serving there with the U.S. military.
"Operation Iraqi Children" took place last month in the offices of Leavenworth chiropractor Joe Jones, where Elaine Rounds is an assistant.
Rounds, a Lansing resident, is the mother of Sgt. Brent Rounds and Spec. Adam Rounds. She said the idea for the drive started with her association with the Family Readiness Group of Company A of the 2nd Battalion, 137th Infantry Regiment of the Kansas National Guard. The support group is made up of wives, mothers, girlfriends and other relatives of the unit, which is deployed to Iraq.
Elaine Rounds said the group had heard stories about how appreciative Iraqi children were when they received gifts from U.S. service members.
"We just decided we would do this," she said.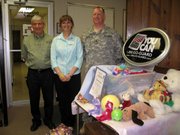 So, with the help of her boss, Operation Iraqi Children was launched April 1 at Jones Chiropractic, 113 Delaware St., Leavenworth.
Patients at the clinic donated goods for the effort, as did members of the Leavenworth Lions Club and members of Rounds' Ladies Bible Study Group at Wallula Christian Church. A Leavenworth-Lansing Area Chamber of Commerce coffee at the chiropractic office on April 11 also helped generate interest in the drive.
"We did a pretty good job," Jones said. "It was a little bit here, a little bit there, and pretty soon you have 86 pounds of stuff to send."
In an e-mail this week from Baghdad, Iraq, Spec. Adam Rounds characterized Operation Iraqi Children as "truly awesome."
"I think it's wonderful what they are doing," he wrote. "It shows that they have great pride in their country and are willing to help people near and far."
He explained how popular handing out gifts has become.
"On our holiday of Christmas 2005, several of us handed out a few stuffed animals along with special-need items such as canned food, shampoo, soap, toothpaste and brushes - mainly hygiene items, things that the Iraqis don't always have the pleasure of purchasing on a regular basis, sometimes never. The children almost demand objects now. There are some that ask kindly and don't expect anything. However, most of the adults are extremely grateful for any gift that may help out with their everyday lives," he wrote.
On Friday, May 5, Staff Sgt. Stuart Ford of the regiment's rear detail was at the Jones Chiropractic office to pick up the collection. Soon, he'll send it to the battalion in Iraq, for eventual distribution by the unit's soldiers to Iraqi children.
"It's the same old formula that's been around forever," Ford said. "Winning the hearts and minds of the people."