Video games spur senior's career choice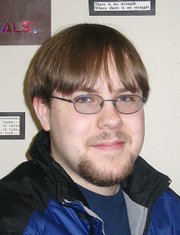 Mitchell Loftus knows what he wants, and he's going to get it - quickly.
After he graduates this month, Loftus, a Lansing High School senior, will attend DeVry University in Orlando, Fla., to learn computer and video game programming.
Most students who go on to college will need four years - some, five or, heaven forbid, six - to graduate with a bachelor's degree. But Loftus plans to graduate in just two and a half years.
The game and simulation programming track at DeVry is equivalent to a four-year program at other colleges, Loftus said, but he will take three trimesters per year, fall, spring and summer, and finish earlier than students at traditional colleges.
"I'll be entering the job market with a degree before age 21," he said.
Loftus said he had always wanted to make video games. He said he probably initially got hooked by playing Tetris on Atari, his first game console. His current favorites are Super Smash Brothers for Nintendo 64 and Resident Evil 4 for Nintendo's Game Cube.
"It's really detailed. It has wonderful graphics," Loftus said about Resident Evil 4. "And you get to kill people."
Loftus said he was looking forward to his new adventure, though he doesn't yet know much about programming.
Orlando is a long way from Lansing, but living in Florida will have several benefits for Loftus. For one, he said DeVry had a "great reputation" and was well known for game programming. Plus, he'll be closer to the Miami Dolphins, which Loftus said was his favorite pro football team.
The move also has its downside.
"I don't want to leave my girlfriend behind," Loftus said, "but it is my dream to go to Florida."
MITCHELL LOFTUS
Parents: John and Susan Loftus
Favorite teacher ever: Stephen Wolf, Cisco networking, formerly of Lansing High School
What he'll miss most about high school: My girlfriend, Christina