High-tech lunch lines forming
High school, middle school using fingerscan devices for meal payments
Pizza, a cookie, a juice box and no wallet. Mission lunch: impossible?
Not anymore at Lansing High and Lansing Middle schools.
The two Lansing schools have begun using cutting-edge fingerscan technology as a way for students to pay for their meals. Students simply pick out lunch and pause to have one thumb scanned. Software recognizes points on the students' fingertips and debits the corresponding account.
So far, Debbie Hill, food service supervisor for Lansing school district, said the scanning software has made lines go faster at lunchtime, but it also has aroused suspicion in parents and students.
"Most of our students like it. There are some that don't want to do it," she said. "We've had a couple concerned parents thinking it's a fingerprint."
But that's just a matter of misunderstanding, Hill said. The software does not record an image of a fingerprint; instead, it places at least 17 points on each finger scanned and translates the information into an ID number that is associated with the student's lunch money account, Hill said.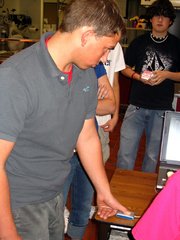 Students at LHS are asked to scan both thumbs. The thumbs, Hill said, have the most surface area on which to plot points.
Hill said she's certain there are no fingerprints stored.
"We've looked at everything we can on the program, and we didn't find anything," she said.
Also, the software cannot share the data collected at a school, Hill said.
"There's no way we can transfer everything - not even from the middle school to the high school," Hill said.
The fingerscan system has been in use at the high school since March and started this week at the middle school, Hill said. Next year, it will replace the cards that students can now use to access their accounts. Students who do not want to use the fingerscan can pay with cash next year, Hill said.
Using the fingerscan will alleviate several problems cards present, Hill said. Cards can be forgotten, lost or stolen, but not fingers. And the fingerscan is quicker than using a card.
"It should go faster, especially at the middle school," Hill said, where students often forget their cards and have to wait to have their account looked up by name.
Hill would like to have at least 75 percent, if not all, students registered with fingerscan by the end of the school year. She said about 50 to 60 percent of high school students had registered so far. Students will still be able to register next year; current fifth- and eighth-graders will have to have their fingers scanned when they start attending their new buildings.