Defective water heater illustrates need for device, plumber says
The hot water heaters lying side by side were removed from the same Lansing home at the same time, about a month ago.
To plumber Walt Carrigan, they offer a perfect illustration to why homeowners need thermal expansion protection if they're living in an area where Lan-Del Water District has installed what's called a dual check valve.
On one of the water heaters, the flue is round; the bottom of the heater is showing some of its five years of age with a little rust, but overall it's smooth.
The other heater's flue is kinked; the tank is bubbled outward.
The second heater, Carrigan contends, was a disaster waiting to happen, capable of sending deadly carbon monoxide fumes throughout the house.
"See this flue that goes up through the center?" Carrigan asks. "That should be perfectly round. If that collapses, then where does the carbon monoxide go? All through the house? It's a scary thing."
The water heater's defects, he said, occurred because a dual check valve had been installed without the simultaneous installation of thermal expansion protection.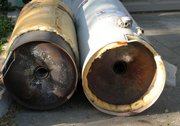 In layman's terms, thermal expansion occurs when water is heated and expands. Since water is not compressible, the excess must go somewhere. But because a dual check valve prohibits the flow of water back past the water main and into the public system, pressure in the in-home system increases.
Sometimes, Carrigan said, the pressure might be manifest in a drippy pipe or leaky toilet. Other times, the pressure can build up within the water heater, causing the tank to expand and the flue to collapse.
"I want to make sure people understand there is a real threat there of problems," said Carrigan, who operates Walt's Plumbing in Leavenworth.
The key, he said, is that if a water meter has a dual check valve, the in-home water system should have a thermal expansion device. Carrigan, however, doesn't recommend leaving the task to a do-it-yourselfer, though.
"I don't know how to tell somebody to look; there's a lot of variables there," he said.
Though he makes his living as a plumber, Carrigan insists such work is best left to professionals.
"I'm not only in this for the money. I do my work for money, obviously; everybody does it for the end result of the dollar," he said. "But this part of my work, I'm trying to make sure the people are safe. : I don't care who goes out and takes care of the problem or how they take care of the problem, as long as they get some sort of thermal expansion device in."
Lan-Del, in a letter sent earlier this month to patrons whose mains have received a dual check valve or will be getting one soon, recommended homeowners contact a licensed plumber, saying, "It is HIGHLY RECOMMENDED that an expansion tank be installed."
Carrigan said getting a thermal expansion device might seem costly - a plumber's call plus the cost of the equipment - but undue pressure on a water system can be costly, too.
"The big thing is that you can wind up with drippy faucets, fill valves on toilets, washing machine hoses blowing - all kinds of different stuff. They're constantly getting nickel-and-dimed to death. It's a constant battle," he said.