Dozens of youths try to land winner in annual derby
Fishing might not be a speed sport, but the early hours of May 13 found dozens of young anglers racing the clock to reel in the mightiest catch.
They girded the small lake at Lost 80 Park, poles in hand, each waiting expectantly to feel a tug on the line. A table heaped with prizes awaited the winners of the fifth annual OK Kids Day Fishing Derby, who had just two hours to snare either the largest or most fish in their age bracket.
Photo Gallery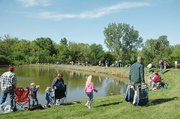 The fifth annual OK Kids Day Fishing Derby
Tanner Morris, 7, came focused.
"Last time, I got a roller thing like this," he said, pointing at the reel on his fishing pole.
Morris said the best part of the event was the prizes, but his mother Lynne Morris, of Leavenworth County, said that it takes less than an award to make the day a winner.
"At this age, you can't lose. If you catch anything it's exciting," she said. "Last year we caught a boot out there."
Though few know what lurks at the bottom of the lake at Lost 80 Park, Jason Crum, director of Lansing Parks and Recreation, knows there are at least 800 fish - that number of channel catfish and hybrid bluegills were released in the lake prior to the event.
For a $5 registration fee which included bait and lunch, youth up to age 15 competed for prizes ranging from fishing poles to tents, and every entrant received a giveaway bag just for coming to the event. Like Lynne Morris, Crum said he thought the process was more important for the children than winning prizes or glory.
"The focus of it is just to get them doing things outside," Crum said. "Getting them outside, getting them away from the television."