Eastern Star unit, at 90, struggles to find members
Memories and camaraderie continue to bind Eastern Star Graham Chapter members, even as their chapter enters its 91st year.
The chapter, based in Lansing, marked its 90th anniversary Saturday.
Founded in 1916, the Eastern Star Graham Chapter has seen many changes through the years, and current members soon may be facing some changes of their own. Though the chapter still boasts a membership of 123 members, recruiting new membership is not as easy as it once was. Retaining members has proved less troublesome: the oldest current member is 106 years old.
Bonnie Hobbs, who has been a member for more than 60 years, still remembers the eagerness with which she joined.
"I joined in May 1945 when I turned 18," Hobbs said. "I was really impressed by it."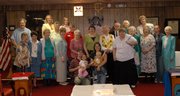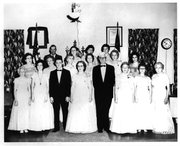 The chapter originally met above C.C. Campbell Grocery near Main Street and Kansas Avenue, but moved across the street, above Kendall's Grocery, after a fire in 1923. It continued to meet until 1970, when it moved to its current home in the 9-Mile Masonic Lodge on Holiday Terrace..
One memory persists most about the old meeting hall in Hobbs' memory.
"One time it had a leaking roof and we were having a meeting with guests and all," she said. "We were having to walk around with buckets catching the leaks."
Hobbs' husband was part of the organization, and eventually her daughters - and later granddaughters - joined. Through the years, the friendships and camaraderie that she shared through the organization have stayed with her, and she hopes future generations will have the same opportunity.
"It's a good social life," she said. "I'd like to see it thrive and continue and get some new members."
Despite the healthy membership roster, the group has had less interest in recent years, which corresponds to a nationwide trend for social societies. Mary Ellen Walker, the secretary of the group, believes people are less likely to join than they were in the past, and take the time out of already busy schedules.
"To me the times have changed," Walker said. "I think that people are doing other things - or they're just busy."
Walker has been a member of the organization for 53 years, and like Hobbs, has enjoyed the friends she has made through the years.
"You just kind of get in with the people and the social activities," Walker said. "Our purpose is to serve society and to help one another.
"It's the fellowship of it."
Though the members hope to pass the friendships, support and camaraderie to as many as possible, it has been a challenge recruiting younger members, for whom the formality of chapter rituals may be a bit less enticing. Carol Morris, Hobbs' daughter and member of Eastern Star, can see clear differences between the generations. She understands the viewpoint of her own daughter, who is also a member of the chapter, but also understands the importance of tradition.
"People just aren't taking time to do the things their ancestors did," Morris said.
The necessity may be fading too. Participation in societies like Eastern Star used to be a staple in the social life of its older members, but younger generations may have more keeping them busy.
The social network that such societies form is an asset that Morris remembers even as a child. When she was young, she always knew where to ask for help if she was in danger.
"My grandfather always used to say, 'If you get in trouble kiddo, find that emblem,'" Morris said, referring to the symbol of the Masonic Lodge.
Morris said that many of the lessons taught and skills learned are of particular help to young men and women as they embark on their academic and professional careers.
"There's a lot of wisdom you learn in it," she said.
The usefulness of building character may be one attribute that hasn't changed between generations. After 60 years, Hobbs still remembers the knowledge passed on to her - and all the material she memorized.
"What I learned 50 years ago when I joined is still what I remember," Hobbs said. "I can't seem to learn anything else."