Jackson, Cameron shine at regional golf, lead Lansing to state tourney
Topeka — Maria Jackson wanted a playoff. There was no question about it.
In fact, she told teammate Stefan Froelich so on the Lansing High golf team's Monday morning drive to Topeka for the Class 5A regional tournament at Lake Shawnee Golf Course.
"When we first came here, I said 'Stefan, I want a playoff. I really want to go to a playoff,'" Jackson said.
She got her wish.
The Lansing High sophomore won a three-person playoff for second place after shooting her best round of the year, a 75. Senior Andrew Cameron shot a season-best 80 and placed sixth. The pair's sharp-shooting day was just enough to edge Lansing ahead of Mill Valley for third place at the regional event and earn the Lions a trip to state.
Photo Gallery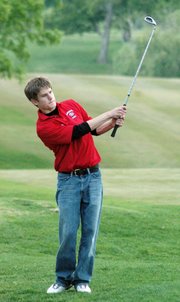 Class 5A regional golf
For Cameron, the trip to state is his second in a row. The rest of the Lions - Jackson, Froelich, Ted Haugland, Max Kozak and Javen Kelly - will be first-timers when they tee off at 8 a.m. Monday at Salina Municipal Golf Course. It's the first time since the 2000 season that the Lions have sent a full squad to state.
"It's awesome that we get to go as a team. That was our goal," Cameron said. "It's a really good way to finish my senior year, and I'm happy to see that some of the other guys get a chance to prove themselves."
Lansing will be one of 12 teams competing for a state title Monday. Given Jackson and Cameron's solid performances during the last two tournaments, LHS coach Bill Pekarek said he likes his teams' chances of competing for a trophy. The biggest keys, he said, would be for his top two players to stay consistent and for the rest of the squad to shoot 85 or below.
"It's a one-day tournament. Anything can happen," Pekarek said.
"I've been at a lot of state tournaments, and sometimes it's that fifth man or sixth man that comes in with a great score and it makes all the different for a team and they end up winning. Anything can happen.
"They've just got to believe in what they're doing, stay focused and don't get negative. A lot of things can happen and turn their whole game around."