KU

is next stop for spirited

LHS

fan
If you're looking for Harrison Green, check out a sports arena.
Green, a Lansing High School senior, was voted the most spirited in his class for attending school sporting events, particularly football.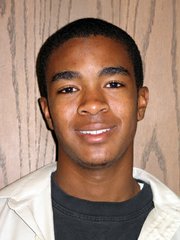 "I'm at every game, pretty much," he said.
Green also plays tennis and basketball, and he is running track for the first time this year. He is competing in the 110-meter high hurdles and pole vault. So far, he said he's enjoying it.
"You don't need a special skill, you can just use your athleticism," he said.
Running track also is helping Green get in shape for college, he said. He plans to attend the University of Kansas, though he's not quite sure what he will do when he gets there.
For a major, Green is considering occupational therapy or business.
"I like working with people," he said.
As far as extracurricular activities, Green, who is a member of the LHS Swing Choir and participated in the school musical last month, said he may join a choir at KU. He's also considering becoming a member of a fraternity.
Green is likely to need something to keep himself occupied when he heads to college. He has been a Boy Scout for 11 years, through which he has had opportunities for camping, mountain climbing and backpacking. He earned the rank of Eagle Scout in December by working with the city's Parks and Recreation Department to plant trees at the softball park.
He had the opportunity to learn more about leadership last fall when he attended the National Youth Leadership Conference in Washington, D.C. Green was nominated by a teacher to attend a weeklong seminar about becoming a leader.
Harrison Green
Parents: Marion and Stella Green
Favorite teacher ever: John Shipley, social studies, retired from Lansing Middle School
Best advice received: Don't worry about what other people think; the only opinion that matters is yours. Be yourself.
What he'll miss most about high school: I'll miss cheering at all the games.