Lions fall short at tennis regional
Shawnee — Matt Warner and Josh Robinson's solid season at No. 1 doubles came to a disappointing end Monday at the Class 5A tennis regional tournament at Mill Valley.
Warner and Robinson, seeded No. 6 in the tournament, were considered Lansing High's best bet for qualifying for state.
Photo Gallery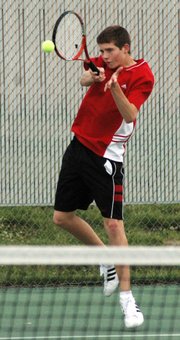 Class 5A regional tennis
They won their first-round match against the No. 11-seed from Mill Valley, but they were unable to advance to state because they fell to the No. 3-seed of Tim Woodland and Danny McKinzie from St. Thomas Aquinas in the quarterfinals.
"The latter part of the season we just started to make a little bit more of the unforced errors, which you can't do," first-year LHS coach Rachel Elkins said.
It was unforced errors that ultimately led to Warner and Robinson's defeat. They cruised to a 6-2, 6-3 victory in their first match of the day, but they ran into trouble against Woodland and McKinzie.
The Aquinas duo didn't have overpowering serves or exceptional precision with shot placement, but they were steady. That got to the Lansing pair.
Long volleys went Aquinas' way thanks to unforced errors. Then Warner and Robinson had trouble finding the zone on their first serves. Ultimately, it was too much to overcome. Woodland and McKenzie placed second overall.
Warner and Robinson were the only Lansing players to win a match. At No. 2 doubles, freshman Ezra Carpenter and junior Felipe Blotta lost their first-round match, 5-7, 7-6 (7-4), 6-2. Their match lasted more than two hours and was the longest of the day in the tournament.
In singles, senior Cory Collins lost to Will Stalder of Bishop Miege, 6-0, 6-2. Sophomore Mo Meyer dropped a 6-1, 6-1 decision to Travis Cornolo of Mill Valley.
Elkins said she was disappointed that her upperclassmen were unable to advance to state, but she said she was pleased with the development her players made. She said Robinson would return to playing singles next season in a move that would make the team stronger. She said she was particularly excited to see what Meyer and Carpenter will do next year based on how much they improved this season.
"I'll put it on the line. I expect Mo Meyer to do good things next year," Elkins said. "I expect Ezra to do well with a new partner because he is a very composed young man, and whoever he has (as a partner), he expects to win with whoever's there. He's not a picky guy. He just wants to play."