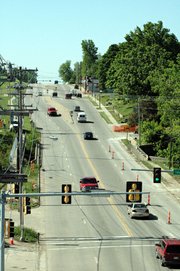 The long-awaited start of roadwork associated with the Main Street System Enhancement project is set to get under way this weekend.
Workers with Leaven-worth Excavating and Equipment Co. (Lexeco) will begin work, weather permitting, on Saturday to remove the bridge over Seven-Mile Creek. The work will necessitate the closing of the two southbound lanes approaching at at the bridge. Traffic will be converted to a single northbound and southbound lane at the bridge.
Utility relocation will continue in other areas along Main but is not expected to cause lane closings, said Ken Miller, the city's Main Street project liaison.