Oh Yes! Wagner's no-no sends Lansing to state
Kansas City, Kan. — Chris Wagner finally got his win.
After being the losing pitcher during the regional championship game each of the last two years, Wagner, a senior, made sure it wouldn't happen again.
Wagner left no doubt he would get his regional victory Tuesday. The Lansing High senior struck out nine and threw a no-hitter against Highland Park. The 13-1 victory earned Lansing a spot in the Class 5A state tournament May 26-27 at Hummer Sports Park in Topeka.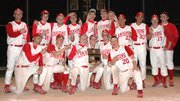 "I didn't care about how many hits they got," said a smiling Wagner. "I just wanted the win."
Everything fell into place for Lansing on Tuesday. First, No. 7-seed Highland Park upset No. 2-seed Turner 10-1 in the first regional semifinal game.
Then, No. 3-seed LHS endured a bit of a scare as it squeaked past No. 6-seed Washington, 6-2, to advance to the finals. The game was tied 2-2 entering the bottom of the sixth, but timely hits from Wagner, sophomore Johnny Stratton and seniors Mike Bayless and Cody Mohan blew the game open. After that, Mohan put the game away.
"(Cody) said coming into the dugout in the bottom of the sixth, 'Just give me one run. That's all we'll need,'" LHS coach Troy Andrews said. "We got a couple more than that, but that's the kind of attitude you need. You need somebody that says 'Hey, get us one run. I'll shut 'em down, and we'll go on to the next game.'"
Wagner said the close call against Washington was good for Lansing - the Lions wouldn't take the Scots for granted.
"It made everybody focus knowing that any team can beat us," Wagner said. "It really got us focused. That's the best we've come out all year."
In the finals against Highland Park, the Lions erupted. Wagner walked the first batter of the game, but he retired the next three in order. When the Lions came to bat in the bottom of the first, they wasted no time seizing control.
Bayless led off with a single. Wagner reached on an error. Senior Jeff Terrill reached on an error and Bayless scored. Junior Kyle Miller ripped a single. Senior Jordan Pratt smashed a two-run single. Tylor McNeill capped the inning with a sacrifice fly that plated Miller and put the Lions on top 4-0.
Lansing's hot bats continued in the second inning. Bayless led off with a walk. Mohan laid down a perfect sacrifice bunt that moved Bayless to second. Wagner tripled to deep left-center field that allowed Bayless to score. Wagner then scored on a passed ball and stretched the lead to 6-0.
Highland Park took advantage of a throwing error, a wild pitch and a fielder's choice to generate a run in the third inning, but Lansing slugged right back with four more runs in the bottom of the inning thanks to a three-run triple by Terrill and a run-scoring single by Miller.
Backed by a cozy nine-run lead, Wagner relaxed and continued to keep Highland Park's batters off-balance. The Scots went down in order in the fourth and fifth innings as Wagner picked up three more strikeouts. The Lions' offense took care of the rest and sealed the run-rule victory.
"That's what you play for," Andrews said. "You play those 20 games in the regular season, and yeah, you're trying to win a league title, but you're preparing yourself for this moment right here. You're preparing yourself to win two games in a regional and get yourself to state."
Nobody, it seemed, was more prepared than Wagner. After coming up short during his previous two regionals, the senior delivered in the biggest game of his career.
"He did what he needed to do," Andrews said. "He went out there and threw a no-hitter and we scored a bunch of runs behind him and we played behind him tonight."
Lansing is one of seven teams that already have advanced to the state tournament. The final spot will be filled by the winner of the regional that features Arkansas City, Winfield, Valley Center and Liberal. That regional will be played today.