One title to go
Lions avenge 2005 regional loss, turn focus to state tournament
Lansing High's softball senior class of Kasey Denney, Nicole Holland, Jessica Stark, Dana Sanders and Nichole Twitchel have been the program's do-it-all kids for four years.
They were on the 2004 team that was the first to win a regional title and win a state trophy. LHS placed third that year. They led the program to its first Kaw Valley League championship May 10.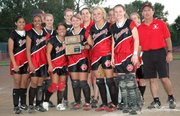 Now, there's only one "first" that has eluded this senior class.
"We were the first for KVL, and going back to state for the second time now, we're going for the state title," Sanders said. "It's about our only first left."
That goal remains attainable thanks to a 5-1 victory over Highland Park in the regional semifinals and a 7-4 victory over Topeka Seaman in the finals Tuesday at Lansing City Park.
Sanders started on the mound against Highland Park and tossed a four-hit, 12-strikeout masterpiece that set the tone for the day. She also smacked a fourth-inning double and scored the go-ahead run in the victory that sent Lansing to the regional finals.
"The fact that we all played as a team and we all hit (against Highland Park), we all did what we needed to do and that gave us confidence to say 'Hey, we can beat Seaman,'" Sanders said.
Seaman ended Lansing's season in the regional finals last year by beating the Lions 5-0. There would be no repeat performance this time.
Freshman pitcher Brittney Lang started on the mound against Seaman, but she appeared nervous at times. In fact, her first three pitches of the game were balls. Still, she rallied and retired the Vikings in order in the first.
Photo Gallery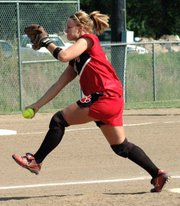 Class 5A regional softball
The Lansing High softball team advanced to the state tournament Tuesday by beating Topeka Seaman in the regional finals.
In Lansing's first at-bat, Holland ripped a first-pitch single. Sophomore Amanda Darrow followed with a base hit of her own. Although no runs were scored that inning, it was a sign of what was to come.
"In the first game I wasn't hitting too well, so then to jump on her and get it going was awesome," Holland said.
Seaman capitalized on a double and an error to take a 2-0 lead in the top of the third, but it wasn't enough to make Lansing buckle. Instead, the Lions struck back with a vengeance. Holland earned a leadoff walk in the bottom of the third.
The next two batters got out, but then came a vicious two-out rally that turned the game around. Morgan Chiles hit a single to left. Jessica Stark then reached on an error and loaded the bases. Sanders earned a four-pitch walk that scored Holland. After that, Lang cranked a two-run double that put the Lions on top 3-2. Sanders scored on an error. Sara Logan then closed the offensive barrage with an infield single that allowed Lang to trot home from third.
"That was big," Logan said of the Lions' five-run surge. "It all got started by Brittney's hit and a couple walks. It just feels good to get a hit."
The hits kept coming. Holland walked and scored on a double by Twitchel in the fifth inning. Stark opened the sixth inning with a single and later scored when Lang reached on an error. That put LHS ahead 7-2.
The cozy lead was unfamiliar territory for Lang, but the freshman pitcher needed the cushion to help calm her nerves.
"You could tell that she was nervous," Sanders said. "I think we all kind of pulled together and were able to support her in any way we could."
Although Seaman mustered two runs in the seventh inning, it wasn't enough to prevent the Lions from going back to state.