Lions sizzle at regional track
Topeka — The Lansing High track team will send one relay team and five other athletes in individual events to the Class 5A state track meet May 26-27 at Cessna Stadium in Wichita.
Those athletes advanced to state by turning in stellar performances Friday at the Class 5A regional meet at Seaman High School.
Photo Gallery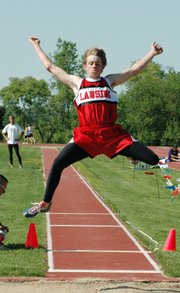 Class 5A regional track
Sophomore Matt Sittenauer was the first Lion to punch his ticket to state when he set a personal record by more than a foot in the long jump. Sittenauer placed fourth in the event with a leap of 22 feet, 3/4 of an inch. Sittenauer later advanced to state by placing fourth in the 100-meter dash in a personal-best time of 10.81 seconds.
Senior Amanda Radovich will make her third straight trip to state in the javelin. She placed fourth with a throw of 122-3. Senior Jeff Slater placed second in the 400-meter dash when he ran a personal-best time of 49.9 seconds. Senior Samantha Parr qualified for state for the first time in her career when she won the 400-meter title in a career-best time of 1:02.18. Junior Erin Rogers earned her first trip to state when she placed first in the pole vault with a jump of 8 feet.
Lansing's final state qualifier of the night was the girls' 1,600-meter relay team of freshmen Amanda Mitchell, Ellie McNeill, Parr and junior Riann Deere. The foursome advanced in thrilling fashion as the freshmen runners had LHS in fifth place but in striking distance when Parr received the baton. Parr, in her typical fashion, quickly closed the gap on the next two runners from Shawnee Heights and Topeka West. She nipped at their heels for 300 meters before splitting through them on the home stretch and moving Lansing into third. From there, Deere took the baton and held the lead.
For more coverage from the regional track meet, pick up the May 25 edition of The Current.