Photo Gallery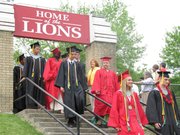 Graduation 2006
Lansing High School's seniors graduated in ceremonies at Frank Graham Field.
A brief shower Saturday morning before graduation ceremonies at Lansing High School didn't dampen the celebration for the Class of 2006.
The skies cleared in time for the 10 a.m. ceremony at Frank Graham Field, where more than 150 seniors received their diplomas.
Eight seniors addressed the graduates, including Class President Rachel Darrow and valedictorian Megan Logan, before the class members received their diploma.
School Board President Brian Bode noted the numerous accomplishments of the class and congratulated the seniors on having more than 90 percent signup for the annual Project Graduation party, overnight Saturday at Fort Leavenworth.
For more on the LHS graduation and Project Graduation, check back at lansingcurrent.com and see Thursday's Current.