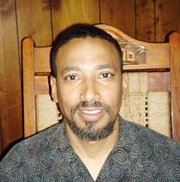 Though it would seem medicine and law enforcement are two fields that rarely share ground, David Andrews has proved otherwise.
As a biology student, Andrews put himself through college by working as a security guard, but he never have imagined where it might lead. After joining the military, he spent six months in Honduras, where his martial background proved useful.
"We went out on helicopters every day," Andrews said. "We'd fly out to the villages and set up clinics.
"Every once in a while your helicopter would get shot at or you'd get ambushed."
At the time, the Gulf War was under way and much of South America was embroiled in conflict. Andrews' team would fly to the villages to set up medical and veterinary clinics, sometimes facing grave danger. Any nerves Andrews had quickly vanished.
"You don't really think much about it," Andrews said of being shot while riding in a helicopter. "After the first time, you get your adrenaline rush : you don't have the fear until you think about it later."
Since his days of South American missions have been over, Andrews has settled into raising his children and spending time with his family.
"I thought this would be the ideal place to raise my two, and now I've got two more."
Recently appointed to the Lansing Community Library Board, he said he hoped to help out with what he can with what he believes is an excellent resource for the city. As a sports fan, he also occasionally helps with coaching his children's teams.
"Any activity in the community for the kids I usually try to get involved with," he said.
Name: David Andrews
Address: 112 W. Kay St.
Occupation: Pathologist assistant
Graduate of: Delaware Valley College of Science and Agriculture
Family: Nancy, wife; David, 23 and Matthew, 4, sons; Erica, 20 and Adia, 7, daughters
How long have you lived in Lansing and what brought you here? 10 years. Came to Fort Leavenworth, in '89.
What do you like most about Lansing? I like the community.
What do you do for fun? We explore. We go out and explore new things; we go out and try new things.
What's the best advice you ever received? To follow Jesus Christ
What organizations or clubs do you belong to? Peace Officers Association, Lansing Community Library Board