Lansing golfers struggle, savor state experience
Salina — The members of the Lansing High golf team left Salina Municipal Golf Course with bittersweet feelings Monday afternoon.
On one hand, they were disappointed that they didn't shoot lower scores or place higher in the team standings. On the other hand, at least they were there. After all, this was the Class 5A state tournament, and Lansing's golf team hadn't qualified for state as a team since 2000. Just having a full squad there was a major accomplishment in itself.
Photo Gallery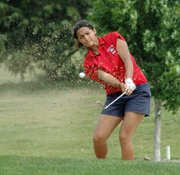 2006 Class 5A state golf tournament
The 2006 Class 5A state golf tournament took place Monday, May 22, at Salina Municipal Golf Course.
Being there was an even greater accomplishment considering the caliber of competition. Team champion Blue Valley West shot a 289. Runner-up St. Thomas Aquinas shot a 291 and had all six of its players score in the 70s. Third-place finisher Kapaun-Mt. Carmel shot a 295.
"To shoot 289, 291 and 295 : those are some tough scores," LHS coach Bill Pekarek said. "Those teams were loaded with players that can shoot right there around par. And then you get a few people that can shoot under par, and that's pretty good, too."
No Lansing players shot par or lower. Sophomore Maria Jackson was the Lions' top finisher. She shot an 80. Senior Andrew Cameron, the only member of the squad who'd been to state before, shot an 85. Junior Stefan Froelich and senior Javen Kelly both shot 90s, senior Max Kozak fired a 92 and junior Ted Haugland shot a 97. As a team, Lansing was 12th with a 345.
Mike Greene of Blue Valley West was the individual champion with a 67. He won a playoff with Matt Lazzo of Kapaun.
"That should be motivation now that they know what kind of scores they're going to have to shoot if they want to do well at the state tournament," Pekarek said. "Hitting balls and practicing their short game in the offseason, all of that stuff comes into play. They've got nine months to work on it now."
Froelich is one of those who plans on practicing his game in the offseason. He was disappointed that he only shot a 90 after having a good practice round on Sunday.
"In my practice round I shot an 82, so I expected a lot more," Froelich said.
So did Cameron. He entered the tournament with hopes of earning a top 20 finish and medaling. His shots off the tee gave him a chance to achieve that goal, but his putting slowed him down.
"I was talking to my family, and they figured I could've taken off 10 shots just with my putting," Cameron said. "That puts me at a 75 and in the medals. I was extremely frustrated with the round. It's not how I pictured it would go, but hey, all we can do is learn from it."
Cameron said the program would be in good hands next year. Although he, Kelly and Kozak are graduating, three players - Jackson, Froelich and Haugland - will return with state experience. So will state alternate Ryan Willcott who made the trip with the team.
"It's definitely in good hands," Cameron said of the program's future.
Froelich said he hopes so. He said he is glad the bar has been raised for the program, and he hopes the Lions will make it back to state next year.
"We have expectations now," he said. "We can't choke off next year and just blow off regionals. We've got to come back again."