Lions soar into state
Sittenauer qualifies twice; Slater has career day in 400
Topeka — Everything was perfect. The approach. The takeoff. The splash landing into the sand pit.
Most important, however, was the distance: 22 feet, 3/4 of an inch.
That was how far Lansing High sophomore Matt Sittenauer sailed on his first - and best - long jump at the Class 5A regional meet Friday at Seaman High School. The distance was a personal best by more than a foot, and it was good enough for Sittenauer to place fourth in the event and qualify for state.
Photo Gallery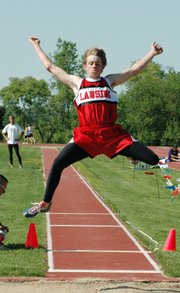 Class 5A regional track
"As soon as I was gone and jumped, I was thinking 'That's at least 21,'" said Sittenauer, whose previous best jump was 20 feet, 11 3/4 inches. "When he said 22 feet, I was like 'No way!'"
The jump earned Sittenauer a place in the state meet. He will jump at 1:15 p.m. Friday at Cessna Stadium in Wichita. It won't be his only event, though. He also qualified for state in the 100-meter dash after setting a personal best by almost three-tenths of a second. He placed fourth in the event in 10.81 seconds.
Sittenauer said he was shocked by how well he performed at the regional meet. He said he'd hoped to set a few personal-best marks, but he didn't think he had a chance to qualify for state in either one.
"I wasn't really expecting to go to state in anything, and going to state in two of my events makes me feel really good," he said.
Sittenauer won't be the only representative of the Lansing boys team at state. He will be joined by senior Jeff Slater. A four-time state qualifier and two-time medalist in the 1,600-meter relay, Slater will compete in the 400-meter dash. He advanced to state by running a personal-best time of 49.9 seconds. The only runner who beat him was Greg Lott of Topeka Seaman who ran a 49.4.
"I knew I had to stay with the Seaman kid to get my time down," Slater said of his career best effort at regionals. "I went real early with him and it helped."
Slater said his goal is to place in the top three at state in the 400. That seems like a realistic goal. Lott has the fastest qualifying time at the state in 5A, but Slater's time is tied for the second-fastest.
Sittenauer and Slater were the lone boys state qualifiers, but a handful of others earned top-six finishes at regionals. Sophomore Will Johnson set a personal best in the triple jump when he went 40 feet, 2 3/4 inches. That was good enough for sixth place and was five inches shy of qualifying him for state. The boys 3,200-meter relay team of Brian Smith, Harrison Green, Cameron Schiller and Jason Bowman placed fifth and missed qualifying for state by just six seconds.