Memorable day at
LHS
158
LHS

seniors pick up diplomas
Rachel Darrow stood before the 2006 graduating class at Lansing High School, choked up with emotion, trying to summarize 13 years of memories into a speech of just more than five minutes.
"We've laughed together, we've cried together, at other times we've even argued together," said Darrow, the senior class president and first in a series of student speakers at the LHS graduation ceremonies on Saturday at Frank Graham Field.
She guided the other 157 LHS seniors on a trip down memory lane that began in kindergarten.
"I'm proud to say that my school-day memories started right here at Lansing Elementary on my first day of kindergarten," Darrow said. "Along with 62 others, we can say we know this place upside down, backwards or any other possible way."
Lansing School Board President Brian Bode congratulated the graduating class on a litany of accomplishments:
¢ Fifty-five seniors had accepted academic scholarships to higher-education institutions. "That's a third of the class," Bode said. "Three have earned military academy appointments or full ROTC scholarships. This class excels in the classroom."
Photo Gallery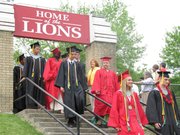 Graduation 2006
Lansing High School's seniors graduated in ceremonies at Frank Graham Field.
¢ Seventeen seniors have signed letters of intent to participate in athletics on the collegiate level. "They may be one of the best athletic classes in the history of Lansing High," Bode said.
¢ Nine seniors have been awarded a scholarship in art, music or drama. "We can entertain you going to the theater, we can entertain you on the stage, singing, playing in the band or on the athletic field," he said.
¢ Class members have helped Lansing finish either first or second in the metropolitan area in scores on the ACT test for the past two years.
¢ Ninety-three percent of the class will continue their education either at a college, university or vocational school.
¢ The school's Leadership Council has held numerous fundraising events to support leukemia and cystic fibrosis research. It also sponsored the annual Thanksgiving dinner for Lansing senior citizens and ran trick-or-treat for children for a safe Halloween night.
¢ Several students have signed up for the military.
Andrew Cameron, senior class vice president, included in his speech thanks to the Lansing community for its support throughout the years. He also thanked his teachers.
"Thanks to all the English teachers who taught me more life lessons than pronouns," Cameron said. "Thanks to all the math teachers to have at least tried to convince me that infinity exists. Thanks to all the science teachers who motivated me to study the field of medicine. Thanks to all the PE teachers for making me run off all those bacon-, egg-and-cheese biscuits I had for breakfast. Lastly, I would like to thank all the band directors I've had over the years. I wanted to work just as hard in band as I did in physics."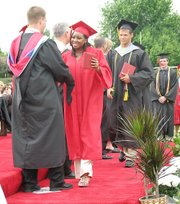 Senior class secretary Megan Smith told her classmates they would be tomorrow's counselors, teachers, police officers, parents, stock brokers, entertainers, politicians, doctors and members of the armed forces.
"After today," Smith said, "you can conquer all."
Matt Warner, senior class treasurer and the starting quarterback on the Lions football team, reminded the graduates, "today we are all winners, and that's what really counts in life."
Other speakers included senior class representative Cory Collins, Guy Gardner and Shawn Jung, who told the assembled faculty, parents and guests, "I present you the best graduating class Lansing High School has ever come across, but more importantly, welcome to Shawn Jung's graduation."
Brent Huffman, class salutatorian, and Megan Logan, class valedictorian, were the final student speakers.
Logan, who will attend the University of Kansas, found inspiration in the words of former first lady Eleanor Roosevelt.
"The purpose of life is to live it, to taste experience to the utmost, to reach out eagerly and without fear for newer and richer experience," Logan quoted Roosevelt as saying. "With that being said, I challenge each of you to live your life to the fullest, take advantage of every opportunity given to you and to never fear to make your dreams a reality."
The speeches ended, and - led by Darrow - the seniors were called one-by-one to receive their diplomas from four faculty members selected by the class: English teachers Ginny Scott and Kathy Bach, math teacher Randy Brown and multimedia teacher Dan Wessel.