NBA

tour stop draws 500 to Fort Leavenworth
Fort Leavenworth — It's hard to make a layup when the defender has a full foot on you; but what if he has three?
That challenge was embodied Friday, May 19, in the form of NBA legend Daryl Dawkins, widely known as "Chocolate Thunder," who played some impromptu defense during a slam dunk contest that was part of the NBA 2006 Finals Trophy Tour at Fort Leavenworth.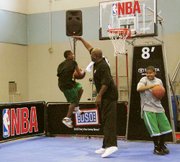 For the dozens of youths who flocked to slam the hardest dunk, it was both a challenge and an opportunity to impress the towering 6' 11" Dawkins, famed for sinking the first backboard-shattering dunk in an NBA game.
Some of the youths could hardly believe they were in his presence.
"They really weren't sure that it was the real NBA people," said Tammy Polczynski, a coordinator of the event. "I think it was hard for them to believe."
The Fort Leavenworth stop was the second of five for the tour, a joint effort by United Service Organizations, the NBA and Toyota to create a fun and entertaining event for military personnel and their families. The tour features custom NBA-themed vehicles, the Larry O'Brien Trophy, interactive activities and the NBA stars themselves. Atlanta Hawks' Tyronn Lue joined Dawkins for the Fort Leavenworth stop.
Polczynski, community activity director for Morale, Welfare and Recreation (MWR), estimated that around 500 people showed for the event. She was impressed by the dedication she saw.
"The neatest part for us is that they brought in the NBA players," she said. "I think it's brought in a lot of people."
The tour arrived the previous day with a team of temporary laborers from Kansas City and spent nearly 16 hours unpacking and setting up the various aspects of the event, like a "hands-on" exhibit of basketballs inlaid with the handprints of NBA and WNBA stars.
Polczynski guessed that between concluding the event and making sure it got back on the road, she wouldn't get home until 3 a.m. the following morning. But all the hard work is a small price to pay according to Donna St. John, vice president of communications for USO.
"From what I've heard everyone had a great time and that's the whole point," St. John said. "I just like to see the kids having a good time.
"I think when they see a player - a legend - they get really excited. It's been a great family event."