Outgoing city clerk honored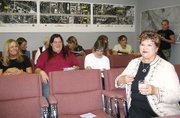 Karen Logan didn't leave her post as Lansing city clerk without a little R and R: reception and recognition.
Logan was the honored guest Thursday, May 18, at a City Hall reception, and later in the evening she was recognized by Mayor Kenneth Bernard during a City Council meeting.
At the reception, which drew co-workers, council members, former council members, Logan's family and other well wishers, City Administrator Mike Smith looked back on Logan's 14 years with the city.
"Overall, in knowing Karen the past 14 years and working with her, I consider her a friend," Smith said. "A lot of times you'd come into the office, and she would liven it up - sometimes good, sometimes bad. But she always was in there, and she's one of the hardest workers I've been around."
Smith said he told Logan's new employer, the city of Leavenworth, how lucky it is to have somebody as impressive as Logan to be its new city clerk.
I told her how impressive and lucky they are.
"I was always hoping Karen would retire with the rest of us out here, but an opportunity has come open so she's going up there," Smith said. "Hopefully, she can get them on the right track."
During the council meeting, Bernard thanked Logan for her years with the city and wished her well. Bernard then presented Logan with a city coin for her service to Lansing.