Parr blazes way to state in 400, 1,600 relay
Topeka — A nervous smile broke out across Samantha Parr's face in the minutes leading up to her 400-meter race Friday at the Class 5A regional track meet at Seaman High School.
Parr shook her arms, jiggled her legs and took a few deep breaths to shake out the nervous tension. Finally her race was called.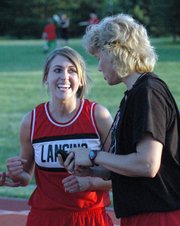 Dreams of qualifying for state drove the butterflies in her stomach crazy until the gun went off. After that, the only thing racing was her legs - and they moved faster than any other runner in the field.
Parr, a Lansing High senior, crossed the finish line in first place and qualified for state for the first time in her career. Her time of 1:02.18 was a personal best by more than one second.
"We didn't make it in the 4X100 (relay), and I wanted it really bad," Parr said. "Once I passed the Schlagle girl, I was like 'I've got to keep going.'"
Parr seized control of the race early and never let up. She dominated the field and won by about 10 meters.
The state berth was a dream come true for Parr, and she said it made the hard work she'd put in worthwhile. After all, she narrowly missed qualifying for state as a sophomore, missed her entire junior year with a broken foot, and then improved each week throughout the season.
"I just came in here trying to get where I am now," said Parr, the smile never leaving her face.
Parr was still smiling after the last race of the day. That was when her 1,600-meter relay team earned a spot in the state meet by placing third in a season-best time of 4:19.5. Freshmen Amanda Mitchell and Ellie McNeill kept Lansing in contention during the first two legs of the race. Parr's strong third leg moved Lansing from fifth to third, and junior Riann Deere maintained that position during the fourth leg.
For Deere, anchoring the relay to state provided a bit of redemption. A week earlier in Tonganoxie at the Kaw Valley League meet, Deere was passed in the final 10 meters of the race. She said there was no way she was going to give up any ground this time.
"I felt really bad about what happened at Tongie, and I was like 'That's not going to happen again,'" she said.
Junior Erin Rogers will make her first appearance at the state meet in the pole vault. She won the regional title by clearing eight feet. Also competing at state will be senior Radovich. She placed fourth in the javelin with a throw of 122 feet, 3 inches.