Ready to lead
LHS

Leadership elects officers for '06-'07
With a new wave of rising seniors poised to lead Lansing High School, a few in particular have accepted a particularly important mantle: making sure that the school's Leadership program is well run.
Leadership officers for 2006-07 were elected just May 23, but they have already begun thinking about the year ahead.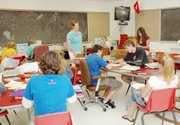 "Senior year is supposed to be pretty laid back and fun," said Riann Deere, the new president of Leadership. "Everything that we do I just want it to be very successful and fun for everybody.
"I just want to make everyone's senior year memorable."
The Leadership officers for next year are Deere as president, Jessica Bradford as vice president, Elizabeth Cristiano as treasurer, and Abby Hauver as secretary.
And besides continuing the programs the leadership class organized this year, Deere said the officers have several new wrinkles in the works.
She is anticipating one particular project to be the main event.
"Late Night For Leukemia is going to be a big one," Deere said. "I think probably more than half of the high-schoolers went to Late Night For Leukemia so, you know, that's a very successful project."
Though each year the class attempts to build on the previous years' progress, preserving the momentum through the transition of the faculty sponsor can be a challenge. Sarah Wise, Leadership's faculty sponsor this year, is leaving the district. Cristiano, who has served as a class president and treasurer in previous years, said she hoped the change wouldn't be a bump in the road.
"I've seen how transition works and it's sometimes difficult," Cristiano said. "I just want to make sure that we don't lose anything that we've had the past couple years through this next year and keep it (Leadership) strong for the underclassmen."
Cristiano agreed with Deere that the Late Night For Leukemia project would be one of the largest events. But Cristiano also said she was looking forward to further developing a tutoring program that she began this year.
"I think our Late Night For Leukemia project is probably the biggest one as far as what we hope to at least continue and maybe do an additional one in the fall," she said. "A lot of kids get really excited about that at our school.
"We usually have a ton of participation from the students."
Cristiano has been involved with Leadership for all four years, as has Deere. For Deere, it's simply taking advantage of what she sees as an excellent program, and a rare chance to really make a difference.
"We have a great opportunity," Deere said. "We do a lot of stuff that other schools don't do.
"We're just really privileged to be able to do this."