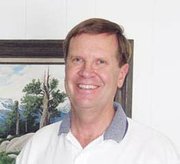 One might not suspect that mild-mannered Mark Beck spent 22 years in the Marine Corps.
In fact, as the child of a Marine, he lived what he calls a "nomadic life" until he finally returned to Lansing to settle down in 1993. By 1998, Lansing had become the first city he had lived in for more than four years.
After retiring from active duty as a helicopter pilot, he spent several years working for a defense contractor at Fort Leavenworth as part of war games training, where he would play the role of the enemy forces in computer simulations. As he was looking for a new career, he thought he might try his hand at his wife's vocation: the insurance business.
It's been 12 years since he began, but he found it an enjoyable calling from the beginning.
"I've always liked to work with people, and that is really what I offer my customers," Beck said.
Dedicated customer service is also what Beck considers his greatest job security in an industry that is increasingly reliant on computers and available over the Internet.
"I'm not an 800 number," Beck said. "There are people who are going to use that, but there are people who want to have that association with an agent."
This summer, Beck plans to spend a good amount of time developing his green thumb. Both he and his wife, Marta, love to garden.
"We just love to work on our garden in the summertime," Beck said. "It's just good therapy getting out there in the dirt and keeping the plants alive."
Name: Mark Beck
Address: 101 Willow Drive
Occupation: Insurance agent
Graduate of: U.S. Naval Academy
Family: Marta, wife; Matthew, 28, son; Adriane, 25, daughter
How long have you lived in Lansing and what brought you here? From 1987-1990 when stationed at Fort Leavenworth with the Marine Corps. Moved back in 1993.
What do you like most about Lansing? It's just a nice town; it's a nice size. If you've ever lived in a place with a million people, it's refreshing to come to Lansing.
What do you do for fun? Garden, paint and watch sports
What would surprise people about you? Until I moved here in '93 I had never lived in any one place more than four years.
What's the best advice you ever received? Treat other people the way you'd like to be treated.
What organizations or clubs do you belong to? Lansing Business After Hours