OutFront grad meets challenge
At 59, Lansing resident completes requirements for
G.E.D.
All the numbers were against her. Rosetta Graham was 59 years old, entering what doctors guessed was the final year of her daughter's life and facing unemployment in a notoriously tough economy.
Her difficulty with numbers themselves, however, was the hardest problem to face. Her poor mathematics skills had cost her more than one job opportunity. So, despite the odds, while caring fulltime for a daughter who had lived five years with an inoperable brain tumor - as long as doctors had predicted - and at 59, Graham enrolled in night classes. She was determined to complete a goal that had topped her list of New Year's resolutions for countless years: She would get her high school diploma.
"I said that every year of my life for that past 30, 40 years," Graham said. "It was time. It was like everything said it was time to do this."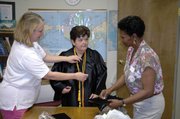 The challenge of finding a new job had mounted for both Graham and her husband, David. Neither had a high school diploma. At one job interview, Rosetta Graham even struggled through four hours of math testing, to no avail. When a prospective job required her husband to get his General Educational Development diploma, the Grahams decided to enroll together for free classes at OutFront Adult Education Center in Leavenworth.
"It was scary. I was kind of devastated after I had went on the one job interview," Rosetta Graham said. "I didn't know what to expect."
A COMFORTING STRUGGLE
Enrolling itself may have been the hardest step in finally getting a diploma, but Rosetta Graham was determined to persevere. She did well in every subject except math, which was a constant challenge. But there was more riding on her success than a piece of paper.
"I felt like if I quit on this then I would quit on other things, and I didn't want to do that," she said. "I had come that far and I just didn't want to let anyone down including myself."
Rosetta Graham had spent the past several months caring for her daughter Mary Jo; in 2000 doctors estimated she had just five years to live. They had found a deadly brain tumor that could not be removed. In 2005, doctors surgically removed a new tumor they had found, and so Rosetta Graham spent her daytime hours looking after her daughter. It left only nighttime for classes, and though it was a lot to take on, Rosetta Graham found that even struggling with math was sometimes a helpful distraction.
"For three hours I could think about something else," she said. "It in some ways it kind of refreshed me."
Graham remembers the support that her husband and the OutFront teachers gave her throughout her preparation for the G.E.D., and also the camaraderie that she shared with the other students at OutFront.
"We all just kind of bonded and gave each other encouragement," Rosetta Graham said. "They didn't give up on me - the students didn't - and I didn't give up on them.
"I really struggled."
"A LOT OF GUTS"
Graham was not alone in struggling with preparation for the G.E.D. Jewel Russell, director of OutFront, knows how challenging the test is. Russell said it's made to be an absolute guarantee of 12th-grade proficiency in reading and writing.
"Forty percent of traditional graduating seniors fail it," Russell said. "The validity of the G.E.D. test cannot be challenged."
But despite the rigor of the exam, Russell said that it's not simply the material that presents the greatest challenge to those who come to OutFront.
"The challenge for the learners is making the commitment to go back to school," she said. "It takes a lot of guts."
And once students are ready to take the test, it takes endurance too: the exam is a grueling seven and a half hours, testing knowledge of science, math, social studies, reading and writing. But Russell and the teachers at OutFront are dedicated to helping those like Graham, as well as the younger and foreign students that make the leap to join the program. OutFront prides itself on the diversity of its students.
"There truly is no typical student. We have a range from 16 to 70," Russell said. "They end up blending very well."
The difficulty of each subject may vary from student to student, but Russell knows that the satisfaction of achievement is one benefit every student shares. Russell said the OutFront students take between one month to one year to finally complete the G.E.D., but the confidence and pride that results lasts much longer.
"You just can't imagine how important it is to them. Sometimes they're the first person in their family to get a high school diploma," Russell said. "There're really not words to describe what it's like telling them that they passed.
"I cry every year."
Beyond the satisfaction, the Kansas State diploma that comes with passing the test means many new opportunities for graduates of OutFront. While in decades past, a high school diploma was not necessary for many jobs, Russell said the times have changed.
"People get by without education, but not very well," Russell said. "Without a G.E.D. passed, it's very hard to even go on to get a job in fast food."
Or, as Rosetta Graham knows, as a receptionist. The four hours of math testing that she underwent was part of an interview for a position searching for a receptionist.
Rosetta Graham was qualified in all other aspects, she had worked at The Country Cupboard for 13 years, many as manager, and had even owned her own business, the Leavenworth Equestrian Center, with her husband prior to that. The equestrian center had been successful, but closed when the land on which it was located was sold.
Despite her experience, Graham was turned down for the receptionist job because she didn't have a diploma. But that was soon to change.
STEPPING UP
Tonight, Rosetta Graham will step up to the podium to deliver a graduation speech to her classmates. It took her nearly nine months to develop her math skills well enough to pass the G.E.D., but after tonight she will have a certified high school diploma.
Though she said she's still finishing her speech, the subject she chose was turning stumbling blocks into stepping stones. It's a clue to the inspiration and confidence that Graham gained from realizing after all the years that she can still learn.
It's a challenge that she encourages others to undertake.
"Go for it. You will never regret doing it," she said. "You'll come away feeling like a new person. A person that can meet any challenge that's out there."
Even a challenge like college. Higher education is one step that Graham is now definitely considering.
"I want to seriously think about going to college," she said. "At 59 years of age, you'd think, Well, why would you want to do that?
"Well, I love to learn new things and now I know I can."
The memory of her daughter's success before she fell ill also motivates Graham. She knows that Mary Jo would give everything she had to see her succeed.
"Every day she has to deal with things we take for granted. That kind of inspires me too," Graham said. "The opportunities are there.
"All I have to do is step up to them."