Parking a premium at
LHS
Construction pushes some student cars into neighborhood
Construction at Lansing High School is putting parking at a premium at the school and on at least one neighborhood street.
Work on a new auditorium has resulted in the loss of an estimated 100 to 120 parking spaces this school year at LHS. The loss has forced some student drivers to seek parking spots on Hithergreen Drive, south of Lansing High School, which in turn has forced police to erect temporary "No Parking" signs along a portion of the street.
Police Chief Steve Wayman said the signs were put up mostly to allow traffic to continue to flow through the neighborhood unimpeded.
"We've put them up where if there were parking, it'd really restrict traffic flow," Wayman said.
He said he'd received calls from neighbors complaining their driveways and/or mailboxes were being blocked by parked cars.
"It's a tough situation over there," Wayman said of the high school. "There's a lot of people, a lot of cars and not a lot of parking spaces. The lot there is literally full. There aren't any empty spaces when I drive through there."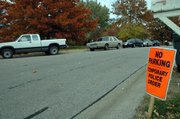 Nevertheless, the chief said, students have taken notice of problems with the on-street parking and worked with police to avoid blocking drives and mailboxes.
"They're doing the best they can," he said, noting that when a problem surfaces, police call the high school to notify the student and the offending car is moved within minutes.
Bagby said the district knew construction would bring with it traffic problems and took action. He said one of the reasons the district expanded its free busing was because of the paucity of parking that would be caused by construction.
"Knowing we were going to lose 100 to 120 parking spaces at the high school we began to look at alternative solutions," Bagby said. "We first added additional transportation services for all students. If utilized, this would have alleviated most of the parking space shortage."
Of the school's 713 students, 236 signed up for busing this year, Bagby said, though he noted he didn't know how many of the students actually are riding the bus daily instead of driving to school.
He said the district also found an additional 31 unused spaces nearby in the lot at Lansing Elementary School, added four spaces on the west side of the high school football stadium and another 32 spaces west of the baseball field for student parking.
Bagby and Wayman said they have counted in the neighborhood of 30 to 40 cars parked daily on Hithergreen that appear to be students' cars. Bagby said he was hopeful a new parking lot that is part of the auditorium addition would help alleviate any need for the Hithergreen parking.
"I know a lot of people are frustrated, but the parking lot is the first step," Bagby said. "There's relief coming."