Community pays last respects to soldier
Corporal buried at Fort Leavenworth after death in Iraq
Fort Leavenworth — Hundreds of members of the Leavenworth and Fort Leavenworth communities turned out last week to pay their final respects to Army Cpl. David M. Unger.
Unger, a 21-year-old Leavenworth native, died Oct. 17 in Baghdad, Iraq, from injuries suffered when an improvised explosive device detonated near his vehicle. He was one of four soldiers killed in the incident.
Those who knew Unger considered him family. So did those who didn't know him. That's why the streets of Fort Leavenworth were lined Friday, Oct. 27, with people - both uniformed soldiers and concerned community members - wanting to honor Unger and his family.
"It's a brotherhood where we all know somebody who's over there," said Lt. Col. Bryan Market, explaining his presence. "It could have been my family. The point is we're all family."
Inside Fort Leavenworth Main Post Chapel, Unger's friends and relatives shared stories and memorable music that was close to their hearts.
Josh Shockey, Unger's cousin, sang Collin Raye's hit song "Love, Me." The song had personal meaning to Laura Unger, David Unger's wife, because she said she'd heard it just before learning of her husband's death. The Boyz II Men hit "A Song for Momma" also was played in honor of Unger's mother, Diana Pitts.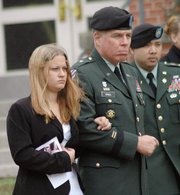 Nichole Blaser used the eulogy to encourage everyone to remember a special moment they spent with Unger.
"I don't know of anyone who David hasn't touched with a laugh or smile," Blaser said, comparing Unger to comedian Jim Carrey because of his ability to lighten the mood during tense times with his "goofy" sense of humor.
Jeremy Unger, David's brother, reminisced about the moment his older brother decided to get married.
"J, I'm getting married, bro, but you can't tell mom yet," Jeremy Unger said, explaining that that was when he saw his brother become a man.
Jeremy Unger said it was hard for him to deal with losing his brother, but he said it made it easier knowing his brother died for a purpose.
"We are David's reason," he said. "He died protecting us and our freedom. That's something I can live with."
Caitlin Sullivan, Unger's cousin, described him as playful and fun-loving. Chaplain (Maj.) Ken Godfrey called Unger a "tender warrior" and told of Unger's 4 a.m. phone call to his mother on Oct. 10 when he asked her to "tell everyone I love them."
Photo Gallery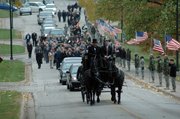 Farewell to a Leavenworth soldier
The Leavenworth-Lansing area lost its first soldier in the Iraq War on Oct. 17, when Cpl. David Unger was killed in Baghdad. On Oct. 27, hundreds turned out for the 20-year-old Leavenworth native's funeral and burial at Fort Leavenworth.
Soldiers and members of the Patriot Guard lined the road from the chapel to Fort Leavenworth National Cemetery. Some saluted as Unger's casket passed in the back of a horse-drawn carriage. Others stood in somber silence. It was a final sign of respect from a community in mourning.
In an e-mail to The Current, Laura Unger said the community's support meant a lot to the family.
"The outpouring of the community was so amazing," she wrote. "I would have never thought that so many people loved my husband and our family. There haven't been any single instance that has touched me. I actually feel as though every instance is special."
More like this story