Lansing schools welcome Chinese delegation
The Lansing school district welcomed two educators from Kaifeng, China, to the city this morning.
ChenLu, an English teacher, and Chen Huantong, vice principal of Kaifeng No. 5 Middle School, were greeted at 8:30 a.m. today, Nov. 2, at Kansas City International Airport by a group of Lansing schools representatives.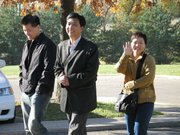 The pair will tour sites in the Lansing area through Sunday, Nov. 5. They then will fly to New York City to sightsee in the Big Apple, return to Lansing on Wednesday, Nov. 8, and depart on Thursday, Nov. 9.
The educators' first stop in Lansing was a breakfast at Ashlee's, where they were introduced to Lansing schools superintendent Randal Bagby and members of the Lansing Educational Foundation Fund.
"We're just very happy that they're here and they made it safely," Bagby said.
Lansing High School principal Steve Dike said the visitors were treated to a scenic tour on the way to Lansing, including plenty of fall foliage and two wayward deer on Kansas Highway 5.
The tour is part of a three-year partnership that kicked off in March when eight students and three teachers from LHS visited Kaifeng No. 5 Middle School and toured sights in Shanghai, Beijing and Xian.
Newly hired City Finance Director William Lundberg also attended the breakfast, where he presented the educators with a city of Lansing flag on behalf of Mayor Kenneth Bernard and the City Council.
The guests will participate in activities at the Lansing schools throughout their stay.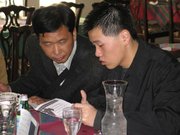 Later today, they will attend classes at Lansing Intermediate School and LHS and take a tour of the school district.
On Friday, Nov. 3, the guests will attend LHS classes throughout the day and eat lunch in the cafeteria. In the evening, the guests will attend the LHS state football playoff game against Kansas City-Turner at Bonner Springs High School.
Weekend activities will give the guests a taste of area culture.
On Saturday, Nov. 4, they will visit the River Market and American Royal in Kansas City, Mo. When they return to Lansing on Saturday night, they will attend the LEFF's Blue Jean Ball at Cherokee Valley Farms.
The group will travel to Kansas City again on Sunday, Nov. 5, and enjoy a tour of Union Station, Crown Center and the Plaza.
The visitors will leave for New York on Monday, Nov. 6, for a quick sightseeing trip and return to Lansing on Wednesday, Nov. 8, for a potluck dinner at the home of Lansing schools assistant superintendent Donna Hughes.
On Thursday, Nov. 9, the guests will return home.