A lesson on Lansing
Historian answers questions in
LMS

class
Dozens of hands shot up as local historian and Current columnist Gene Young invited the Lansing Middle School eighth-graders to ask questions about life in Lansing during 1941.
"How much was gas?"
"Did you have television?"
"Did you have a milkman that put milk on your doorstep?"
"What type of music did you listen to?"
For 50 minutes on Friday, Oct. 27, students in Jofee Tremain's Kansas history class didn't let up.
They wanted to know every detail of Young's experiences as a Lansing teenager.
The query that elicited the loudest teen response required Young to recall the length of his lunch period.
"I think it was an hour," Young told the students, reminding them that he was allowed extra time because he had to eat lunch at home.
Amid gasps and groans from the teens, Young had a quick retort.
"Do you want to go back there to 1941-42?" he asked.
In December 1941, Young was an eighth-grader when the United States entered World War II after the attack on Pearl Harbor.
"I know exactly where I was when I heard about it," he said.
That winter, Young was 13 and a student in Miss Gauger's combined class of seventh- and eighth-graders at Lansing Grade School.
Life was quite different for students back then, Young explained.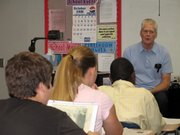 Ola Gauger, who also was the principal, ran a tight ship.
"She had a paddle about that long that had holes in it," he said, holding up his hands about two feet from each other. "When you didn't perform the way you were supposed to, she took you out in the hall and let everybody in the whole school hear it."
Nevertheless, Young said, he always would remember Gauger as a fair disciplinarian. And demonstrating the link from the past to the present as he did throughout the discussion, Young had his own question for the audience.
"Do you know where the new elementary school's going to be built?" he asked. "That was where she lived. That was her land. That's where Miss Gauger lived."
THE PROCESS OF PROGRESS
Young brought an armful of mementos to share with the teens, including a newspaper clipping announcing the results of Lansing's first municipal election in July 1959.
As the article explained, 253 of the city's 600 eligible voters turned out to elect Lansing's first mayor, George K. Caraway, and an inaugural five-member City Council, which included Young.
But Young was met with a flurry of snickers when he asked the students if they might consider running for political office some day.
The conversation quickly turned serious.
"All of you laugh about politics, but I want to tell you what it was like before we incorporated," Young said. "When it rained - we bought our house in 1951 - we had to park on the highway. We couldn't drive down East Lois Street, because there was six inches of mud, and I don't think anybody would want to go back to that."
He told the teens of a time when the city had only three streetlights and door-to-door postal delivery didn't exist.
"That's why it's important - if you don't think something's right - run for office and see if you can get it changed," Young urged the students.
DECADES OF DETAILS
As the students passed around the photographs, certificates, newspaper clippings and books Young brought, several teens asked how the collection began and how Young knew what to keep.
"My grandfather, who lived in Yankton, S.D., was a newspaper reporter so my mother saved everything like that," he said.
In addition, Young's collection includes historical tidbits his wife, Ada, has saved throughout the years, his old day planners and his parent's correspondence.
"I have a lot of letters that my father wrote to my mother when she went back to Yankton when one of her nieces or nephews was born. That's how I found out that in 1922 all the grocery stores in Lansing burned," he said.
The collection, Young said, often comes in handy when he's writing his weekly history column for The Current.
Young also travels back in time within his mind to remember vivid details.
"Can any of you put yourself in a spot, say five years ago or 10 years ago? Can you go back there in a room and look around?" he asked.
When the bell blared at the end of class, the questions didn't stop.
Tremain, who had invited Young to visit her class for the first time, said she was impressed with Young's method of storytelling.
"What I really like is that he's encouraging the kids to research and keep their history, tell the stories. The kids were enthralled. Not one person walked out wanting to leave," she said.
For student Blaine Vance, the most interesting details Young shared were the price of gas - it was 12 cents a gallon - and the teachers' strict methods of discipline.
"He's really informative. When Mrs. Tremain said it was a guest speaker, I thought he was just going to talk about history, but he talked about his life."
During the discussion, Vance asked Young, "How many presidents have you had in your life?"
Young replied, "Hoover was the first one I remember. Remember, I've lived in nine decades. I was born in 1928."
So which decade was his favorite?
"They were all my favorite, I think, because I've been busy doing something," Young said. "You can stay busy and have fun with almost anything that you do."