Lions hope to make history
Victory on Friday would put Lansing in state quarterfinals for first time
Six weeks ago the Lansing High football team was 0-3 and looked destined to have its streak of state playoff appearances snapped at two.
Now 4-5 and playing its best ball of the season, Lansing is back in the playoffs for the third straight year. LHS will play Kansas City-Turner at 7 p.m. Friday at Bonner Springs High School, and a win would put the Lions in the state quarterfinals for the first time in school history.
It's been an improbable journey in many ways, but Lansing senior quarterback J.T. Collins said the early struggles made the Lions a better football team.
"We had a lot of challenges, and I think if we didn't have them then, we might have had them now and that would've really hurt us at the worst time," he said. "But we already went through those. We got past them, we fought them and everybody saw that we could still play together and overcome adversity. That's what we've done, and we've just come back harder and stronger."
Lansing won four of its last six games entering the playoffs, including two straight after dropping its district opener to Shawnee Heights on Oct. 13. LHS also overcame a slew of injuries, including season-ending injuries to starting running backs Kyle Grape and Daniel Eyerly.
Lansing coach Bill Pekarek said the strong finish to the regular season said a lot about his team's character.
"We've got a real good group of guys and I think they've really bounced back and competed well the last six or seven weeks," he said. "We're proud of where we are."
After back-to-back appearances in the Class 4A playoffs, Lansing finds itself in the 5A playoffs for the first time. At 5-4, Turner is a favorable opponent, especially when the other options were No. 1-ranked Blue Valley (9-0) and No. 2-ranked St. Thomas Aquinas (8-1).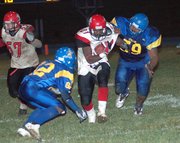 Turner is a tough team to figure out. It turned in strong performances in losses to Blue Valley North and Atchison, but then it was upended in its district finale by Bonner Springs, 21-20.
Despite the Bears' up-and-down play, Pekarek said they present a number of challenges while running their offense out of the shotgun formation. They are fairly balanced between rushing and passing, but quarterback Richie Blazevic's favorite target is athletic wide receiver Travis Croom.
"They've got a good receiver they like to go to, so we've just got to be ready," Pekarek said.
Lansing enters the game playing its best football of the year. Junior running back Chris Hill is back from an ankle injury. He'll be seeking his third 100-yard game of the season. Fullback Brad Terron has added a new dimension to the offense with his tough running style. Collins also has done a better job finding open receivers in recent weeks, most notably junior Stephen Didde.
Collins credited improved play by the offensive line, and junior Mycol Bowen in particular, with helping the offense explode the last two weeks.
"The whole offensive line has just super-charged this offense and really got us going," Collins said.
The Lions' defense - it's primary strength all year - also continues to get better. Junior Tim Torchio has five interceptions so far, and he and Bobby Hauver will play key roles in trying to stop the Bears' passing game. Defensive linemen Bowen, Tyler Strouhal, Billy Bayles and Peter Willcott, defensive ends Justin Smith and Angelo Barron and linebackers Joe Kohl, David Dickson and Terron have excelled against the run.
"I think if we play like we've been playing the last few weeks, we'll get the job done," Strouhal said. "We're just working hard for Friday."
The winner of Friday's game earns a date with either Blue Valley or Bishop Miege in the state quarterfinals on Nov. 10.
"I'm sure that the guys that have been on our team the last couple of years, that have been in some playoff games, they're starting to understand that they've been there and they'd like to go a little bit farther," Pekarek said. "In 5A you don't play the bidistrict game, so if we win this one we're really a step closer than where we've ever been before. Our guys are excited about that opportunity."