Push for new federal prison gets help from elected officials
If the Leavenworth community wants to land a new federal, maximum-security prison, it would do well to follow the path taken by Junction City officials when they were trying to win the return of the famed 1st Infantry Division, U.S. Sen. Sam Brownback said.
Brownback and U.S. Rep. Jim Ryun, both Kansas Republicans, visited the United States Penitentiary in Leavenworth on Tuesday, Oct. 31, and then met with a group of community leaders about how to best lobby officials at the federal Bureau of Prisons for a new prison.
"You need to tell the BOP, 'We love you. We love you here. We're going to fight for you. We're going to fight for you here,'" Brownback said.
"In my experience, many people want to go where they're wanted. Prison facilities are no different; they want to go where they're wanted. And you've got to want them."
Brownback and Ryun noted the efforts of the Junction City community a few years ago when it was trying to convince the Army to relocate the 1st Infantry Division back to Fort Riley. Officials met with the military, lobbied for the return and took steps to ensure the community could accommodate the Big Red One.
"We were wanting to send them a simple message: We want you in Kansas. We think you ought to be in Kansas," Brownback said.
Among the arguments for returning the Big Red One to Kansas was the division's history, Brownback noted.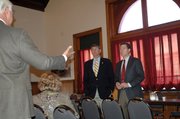 "You moved out of Kansas to Germany but it was always the understanding : where if you came back, were coming back to Kansas," he said.
A similar historical argument could be made for building a new maximum-security prison in Leavenworth, which is home to the oldest federal prison, Brownback said.
"The prison facility was downgraded from maximum to medium," he noted. "Well, part of that was because we believed you were going to be building a maximum facility here, and we want that. We think it belongs here, so this is the right place for it."
The process of landing a new prison could be lengthy.
While federal officials mull whether and where to build a new maximum-security prison, Brownback said he and the Kansas congressional delegation would do their best to be sure the Leavenworth penitentiary was kept in good working order.
Charlie Gregor, executive vice president of the Leavenworth-Lansing Area Chamber of Commerce, said if the need for a new maximum-security prison were substantiated, Bureau of Prisons officials probably would include some funds for it in the budget request for fiscal 2009, with the remainder coming in subsequent budget years over a two- or three-year period.
"It's like what was involved with the Big Red One," Brownback said. "We just didn't show up one day and say, 'Hey, the Big Red One belongs here.' This is a lengthy dance, and there is history you can play off of - how we take care of the facility, how the community would deal without it. Each step you need to reel them in on the process."
Both Ryun and Brownback urged community members to, when they make trips to Washington, arrange for meetings with Bureau of Prisons officials and to keep up their lobbying efforts for any new prison.
"Other competitors are having similar meetings," Ryun told the audience.
Terre Haute, Ind., home of the medium-security Federal Correctional Institution, is among the competition for a new federal maximum-security prison, Gregor said.