Spirit on display
LHS

squads prepare to tout skills at Mill Valley Cheer and Dance Fest
While most fall teams' seasons wind to a close, the Lansing High School cheerleading and Lionettes dance squads are gearing up for a little league play of their own.
The teams will travel Nov. 18 to Shawnee for the second annual Mill Valley Cheer and Dance Fest, an exhibition open to squads in the Kaw Valley and Frontier leagues.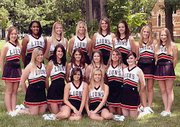 LHS cheerleading sponsor Melissa Cappel said experienced professionals at the festival would judge participants on motion technique, stunting, dancing, vocal projection, spirit and showmanship.
She said the festival would provide an opportunity for the teams to compare themselves to other schools in the area based on their full routines.
"We see these girls at all the football games and basketball games, but now we're getting to see more than just the sideline cheers," Cappel said. "It's just really fun for the girls."
While the schools won't be directly competing against one another, they will vie for the highly coveted spirit award. Participating teams cast votes for the award, which LHS took home in February during Mill Valley's inaugural cheer and dance festival.
Cappel said the 16-member cheerleading squad had shown strong leadership skills this school year with 13 juniors and seniors. They demonstrated those skills in July when the team attended the National Cheerleading Association Camp at Baker University in Baldwin City, Cappel said.
Junior Kerri Jewell and seniors Sica Bradford and Courtney Hall earned spots on the Kansas NCA All-American Team. Cappel said the veterans were chosen for the strong skills they demonstrated in their overall performances.
Eight cheerleaders were named All-American nominees for an individual strength such as tumbling, stunt, jump or dance technique. Receiving the honor were sophomore Bobbi Walden, junior Danielle Glynn, and seniors Megan Buehler, Jenna Gnip, Ali Henderson, Alex Mosley, Erin Rogers and Paige Rude.
In December, the cheerleaders and dancing Lionettes will team up to sponsor their second minispirit clinic of the school year.
The event takes place Dec. 11 to 15 and is open to future cheerleaders and dancers in kindergarten through sixth grade for a $25 fee, which includes a T-shirt and a meal on each of the practice days.
Cappel said local businesses, including Dillons, Pizza Hut and Mr. Goodcents Subs & Pastas, have donated many of the meals at previous clinics, allowing the cheer and dance teams to raise funds for camp and uniform costs.
The first clinic of the school year attracted 115 youngsters. During LHS' first home football game on Sept. 8, the prospects took to the field during halftime to perform cheers and a dance routine to "What I Like About You," the popular '80s tune by the Romantics.
Time ran out and the performance was cut short, so a full performance took place later in September in the LHS gym.
Cappel said the clinics had become a tradition that provides a recruiting opportunity to encourage girls with budding interests in cheerleading and dancing to develop those skills. In addition, Cappel said, it's a districtwide activity that brings students from the four Lansing schools together.
Caitlan Darting, Lansing Elementary School first-grader, said her favorite part of the clinic was learning from cheerleader Erin Rogers, a senior.
"The best part was being with my buddy Miss Erin," Caitlan said. "I learned to dance and cheer. It was fun."