Young runners get taste of state
Lawrence — Lauren Jaqua, Abbey Lozenski and Lori Flippo huddled together a few dozen feet away from the Lansing High tent on Saturday at Rim Rock Farm.
They'd finished their four-kilometer race at the Class 5A state championships about 15 minutes earlier. Now the girls wanted a moment to themselves. None were particularly happy with their times and places in the race, and all were sad that it was their final race together.
Photo Gallery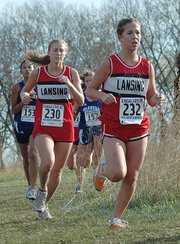 2006 state cross country
Jaqua and Lozenski both are freshmen, so they'll be back, but Flippo was the squad's lone senior. This was her final race. The trio spent the entire season collecting medals and earning recognition for the program. State didn't go so smooth.
"I'm glad we all made it here," Flippo said. "I'm glad it was the three of us. It was our second time here (running at Rim Rock) this year, and there's no one I would've rather been here with than those two girls. I'm disappointed in how I did, but I'm proud of them for getting here and going through with it."
Topeka Seaman senior Sydney Messick won the state title in 15 minutes, 15.49 seconds. Jaqua placed 55th in 17:28.84, Flippo was 83rd in 18:32.60 and Lozenski was 90th in 19:07.96.
LHS coach Errol Logue said his runners were due for a bad day after the season they've had. After all, even the best runners have off-days. The Lions, it seemed, were setting personal-best times week after week.
"I was a little afraid it might come at regionals," he said. "We had every reason to crack (at regionals) with the weather and everything, but they didn't, so I'm proud of them. They got through a tough regional and got here. We didn't do what we'd like to do today, but by gosh, they got here."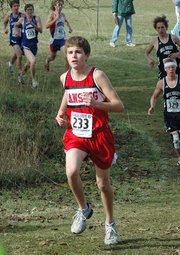 Jaqua entered the state meet with hopes of placing in the top 20 and winning a state medal. The pressure to medal became too much of a distraction, she admitted.
Jaqua's nerves were evident early. Unlike other races this season, she didn't dart to the front of the pack with other runners. Instead, she slipped back in the pack while others pulled away.
"Maybe I set all the pressure on myself," she said. "I tried to keep myself calm, but it didn't work.
"But," she added, "sometimes you have to taste disappointment and failure to learn from it. You've just got to stay strong and try to get better."
Lozenski shared Jaqua's feelings. She admitted it was tough to find the positives in the race.
"I just need to look at it from a different perspective that making it to state as a freshman is a good thing," she said. "I think Lauren needs to do the same thing. We should just be happy that we made it. I think in a couple of days, if not a little longer, it will set in that it was amazing just to make it to state."
For Flippo, a nagging overuse injury to her left leg finally took its toll. "It's in pain," she admitted after the race. "I feel like I'm going to fall over when I walk."
Of the three girls, Flippo may have been the least disappointed in her performance. She transferred to LHS from Leavenworth last year. A transfer rule kept her from competing on varsity as a junior, so this year was her only chance to make it to state. That made just being here a big deal.
"I'm glad I got here," she said. "That's the most important thing. I got here, and I'm proud of myself for that. It wasn't one of my best times, but I tried."
Although the girls were disappointed with how they raced, freshman Brandon Craig - Lansing's lone representative in the five-kilometer boys race - turned in an impressive performance by his standards. He covered the course in 19:28.01 and placed 88th out of 99 runners. Great Bend senior Sloane Kern was the state champ in 16:25.43.
Craig said he wasn't nervous for the race because he knew the odds were stacked against him going in. As a result, he was able to focus on his individual performance and not worry about placing.
"I knew I wasn't going to be able to get that good (of a place), so I just was going to run my hardest," he said.
Logue said Craig ran a smart, aggressive race.
"I'm really tickled with the way he ran," the 38th-year coach said. "He was scared to death he was going to get last because he knew he was the last qualifier in his regional, but he ran very well. It's not the place, but it's the attitude and the aggressiveness and the way he hung in there and ran. I'm very pleased with that."