Turner takes down Lansing
Lions' season ends with 36-12 loss in state playoffs
Bonner Springs — The Lansing High football team knew both its offense and its defense needed to deliver their best outings of the season to beat Turner in the first round of the Class 5A state playoffs.
Neither side did its part for a full game Friday night at David Jaynes Field in Bonner Springs. The LHS offense had four first downs and three turnovers in the first half and the defense surrendered four first-half touchdowns along the way to a season-ending 36-12 loss.
It was the final stop on what was an up and down season that concluded with a third straight appearance in the state playoffs.
Photo Gallery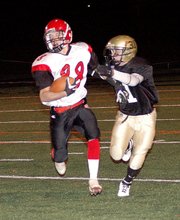 LHS falls to Turner in Class 5A playoffs
"This season was a rollercoaster," senior quarterback J.T. Collins said. "It was incredible the ups and downs we had, but the last three games the offense came together and the whole team came together. It's amazing how much we came together as a team and started playing together. That's why we played so good the last couple weeks (and got into the playoffs)."
Lansing (4-6) got off to a rocky start as Collins threw an interception on the second play from scrimmage. LHS took the ball back three plays later, however, when senior defensive back Brad Zink picked off a pass over the middle and returned it 16 yards. The Lions went three-and-out on the ensuing possession and were unable to capitalize.
Turner (6-4) shook off its early offensive struggles and strung together a nine-play, 64-yard drive that gobbled up 4 minutes, 45 seconds. Golden Bears quarterback Richie Blazevic capped the drive with a seven-yard touchdown run on an option keeper. The two-point conversion try failed - as did all of their conversion attempts Friday - but they led 6-0.
Two plays into its next drive Lansing turned the ball over again. This time it was on a botched handoff from Collins to fullback Brad Terron. That miscue didn't hurt the Lions - thanks again to another big play by Zink. Turner running back Josh Gutierrez fumbled on a run up the middle and Zink scooped up the ball. It was Zink's second forced turnover of the quarter and it gave the Lions another chance.
"He was playing hard. He was playing with his heart. That's what we needed everybody doing," Collins said of Zink's effort.
The LHS offense was unable to capitalize again. The Lions punted and the Bears answered with another score in the early seconds of the second quarter for a 12-0 lead.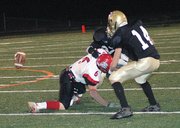 LHS looked poised to respond on its first possession of the second quarter when Terron broke free for a 23-yard gain, but the drive sputtered on the next three plays and the Lions punted again. The Bears needed just six plays to score again - this time on a one-yard sneak by Blazevic - for an 18-0 lead. Collins threw another interception on the first play of the ensuing drive, and the Bears turned it into another touchdown on another one-yard Blazevic run. That made it 24-0 with 38 seconds left in the half.
Lansing amped up its intensity in the second half, and for a while it appeared as though the Lions would climb back into the game. The defense was solid on the first drive of the second half, and a sack by Joe Kohl forced the Bears to punt. The Lions then used a 15-yard pass play to Angelo Barron, a 14-yard pass to Zink and an 11-yard pass to Terron to push the ball down the field. Collins capped the drive with a 15-yard touchdown scamper. The two-point conversion failed, but the Lions were within 24-6 with 7:37 left in the quarter.
The brief momentum that Lansing had quickly disappeared as Turner answered with a five-minute drive and another touchdown.
"In the second half we made some adjustments and we went out early and threw some passes to try to get into a routine," LHS coach Bill Pekarek said. "I thought our guys came out and played a lot better in the second half. They played like you needed to play in order to win the game, but we just didn't stop them enough times. We'd stop them for a couple plays and then give up something."
A 46-yard run by Collins on the next drive gave Lansing first-and-goal on the Turner five-yard line, but the Lions failed to reach the end zone on four tries. The missed opportunity came back to bite them again as the Bears rattled off a six-minute drive that resulted in Blazevic's fifth touchdown of the game and a 36-6 score.
Although the game was out of reach, the Lions refused to fold. In fact, they mounted their best drive of the game by going 80 yards on 12 plays. A 29-yard reception by Bobby Hauver ignited the drive. Another 29-yard grab by Zink gave the Lions first-and-goal. Four plays later Collins scored from a yard out. That made it 36-12 with 1:27 left. Turner then took a knee and ran out the clock.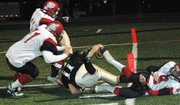 "I'm proud of the way they kept fighting," Pekarek said. "I'm glad they kept plugging away."
The loss ended the prep careers of 12 Lansing seniors, but the Lions will return a slew of starters from an 18-member junior class and 26-member sophomore class. Included among the returning starters will be running backs Terron and Chris Hill, receivers Hauver and Stephen Didde and four offensive linemen. A slew of starters will be back on defense as well.
"We've got a great bunch of guys,"Pekarek said. "We had a senior class that was small, but we lost some pretty good players in that group. We've got a pretty good junior class. A lot of them got some experience as sophomores and now they've got a lot of experience as juniors, so that experience has to pay off."
NOTES
- Quarterback J.T. Collins rushed 11 times for a team-high 76 yards and two touchdowns. He also completed 12 of 22 passes for 184 yards.
- Fullback Brad Terron had four carries for 29 yards. Tailback Chris Hill had six carries for four yards.
- Wide receiver Bobby Hauver had three catches for 53 yards. Tight end Joe Kohl had three catches for 52 yards. Wide receiver Brad Zink had three catches for 49 yards.
- Brad Terron had a team-high 14 tackles, including six unassisted. Joe Kohl had 12 tackles. Bobby Hauver had nine tackles, including six unassisted. Brad Zink had eight tackles, including five unassisted. Angelo Barron made seven stops. Tyler Strouhal, David Dickson and Tim Torchio had six tackles apiece.
- In addition to his eight tackles, Brad Zink had a fumble recovery and an interception.
- Joe Kohl and David Dickson each had a sack.
- Turner outgained Lansing in total offense 432-288. The Golden Bears piled up 289 yards rushing on 52 carries. Lansing had just 136 yards on the ground.