Communicating culture
Online tools to play role in partnership
Officials at Lansing High School and Kaifeng No. 5 Middle School in China have secured a way to exchange their cultures that doesn't require a visa, an airline ticket or an itinerary.
During a meeting between the schools' representatives last week, plans were made to use the Internet to enhance communication between students, teachers and administrators during the schools' three-year cultural partnership.
Photo Gallery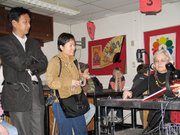 Kaifeng and Lansing Schools Partnership
The Lansing school district played host to two educators from Kaifeng, China, in November 2006.
The Kaifeng school's representatives, English teacher ChenLu and vice principal Chen Huantong, arrived in Lansing on Thursday, Nov. 2, for a weeklong tour of sites in northeast Kansas and Missouri.
They will fly back to China today, Nov. 9, after a weeklong immersion in American education and culture that included classroom visits throughout the Lansing school district, as well as meetings, meals and sightseeing excursions with representatives from the Lansing schools.
The schools hope to extend that visit with Moodle, an online course management system already used by several teachers in the Lansing school district.
"What we wanted to do was set up some kind of link between the schools," said LHS English teacher Linda Leffler, who visited Kaifeng in March with eight LHS students and two teachers and will accompany another group there in the spring.
She said one of the objectives during the guests' Lansing tour was to find ways for the schools to maintain contact with each other in between visits.
But more importantly, she said, the schools needed to employ a method of communication that allowed everyone at both schools to participate in the cultural exchange.
That objective became clearer last week when LHS officials learned the Kaifeng delegation would not include students, as originally planned.
Two Kaifeng students were denied visas for travel to the U.S. in late October, Leffler said, because they didn't provide academic records with their applications.
At the meeting, district technology coordinator Jeff Andrews and LHS teachers Sue Lednicky, Dan Wessel and Leffler gave the Kaifeng delegation a virtual tour of the Lansing schools via the World Wide Web.
The visitors viewed the Lansing school district Web site and perused teachers' Web sites as well, followed by a demonstration on the district's Moodle page, moodle.usd469. net.
Lansing representatives said the site could strengthen communication between the groups more effectively than e-mail because it provides chat rooms and discussion forums for students and teachers to exchange information in large or small groups with the option of real-time communication.
"We could show some of our lessons that we do, and if they wanted to go in there and do it themselves, they could. That would be one easy way to communicate. Pictures could be put on there," Lednicky said.
Wessel suggested the students pose questions in a Web forum to learn more about student life in the other country. For example, large groups could participate in an online discussion about schedules, cafeteria food or entertainment at any time of the day.
Wessel added that Internet chat rooms and forums were more popular than e-mail among teenagers.
Andrews said the site also would offer a smoother way of transferring content.
"Setting up a China course on Moodle would be an easy step to do to be able to correspond back and forth without having to go through e-mail or any other kind of hoops they may have," Andrews said, referring to the Chinese government's practice of Internet monitoring and censorship.
ChenLu explained that language shouldn't be a barrier because many Chinese students take at least six years of English instruction.
In true multimedia fashion, the Lansing representatives also introduced the Kaifeng representatives to life at LHS through a weekly video production by students.
The show featured a Harry Potter spoof, interviews with Lansing Lions born on Friday the 13th, and students trying out Latin singer Shakira's dance moves.
At the conclusion, ChenLu asked for a copy.
"That was very excellent. We would like to bring that back to China," ChenLu said. "It was made by students. That surprised me."
Leffler asked the Kaifeng representatives if they might later reciprocate by sending a DVD of the Kaifeng students to Lansing. Eventually, the groups would like to post the videos on the Web.
"Then even if our students can't travel, they can see each other," Leffler said.
ChenLu said the DVD also would be a reminder of the time she and the vice principal had spent in Lansing.
"It's very beautiful and the teachers and students are very friendly to us," she said.
"In our classrooms, the teachers won't allow the students to go in and out freely," she said.
"The students here are very lucky. They have more time to play."
LHS senior Tang Lin, a translator for the guests, said the visitors had told him they were impressed by the family atmosphere they had witnessed in the Lansing classrooms.
"They say the classes are more like a family in America because everyone participates," he said.