Eyerly wins Sean Ryan Scholarship
Sean Ryan was a regular guy who loved to play football and hang out with his friends.
That's why, in essence, those were some of the requirements for winning the Sean Ryan Memorial Scholarship.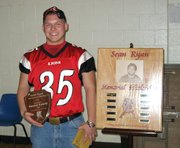 Ryan, a 2003 Lansing High graduate and former LHS football player, died April 8 after losing control of his Dodge Dakota on Kansas Highway 10 near Eudora. The scholarship is Lansing's way of keeping Ryan's memory alive.
The Sean Ryan Scholarship will be presented to a senior on the football team each year. The LHS football program organized a flag football tournament in late July and raised $4,000 to start the scholarship fund. The first scholarship - this one valued at $1,000 - was presented Tuesday night at the Lansing fall sports awards banquet. Senior Daniel Eyerly won the award.
"It's pretty special because a lot of scholarships you get are based on your athletic ability, but this one's based on who you are as a person," Eyerly said. "It means a lot."
All football seniors can apply for the scholarship. Those interested filled out applications. The Ryan family decided on a winner.
Peter Willcott, Joe Kohl and Eyerly turned in applications.
Ryan's mother, Debbie Ryan, thanked all three candidates for applying.
"Thank you for your applications," she said. "They touched my heart, and I know Shawnie would be really proud."
Eyerly said he hopes to play football in college.