Student lends voice to exchange
Lansing High School senior Tang Lin has missed several classes this past week, but not to worry. It's all in the name of education.
Serving as a translator, Lin, a native of China, has accompanied two visitors from Kaifeng, China, during a portion of the guests' weeklong stay in Lansing.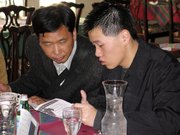 When ChenLu, an English teacher, and Chen Huantong, vice principal of Kaifeng No. 5 Middle School, arrived at Kansas City International Airport on Nov. 2, Lin was one of several Lansing schools representatives who greeted the pair.
This is Lin's second stint as a translator for the Lansing schools. In 2005, he assisted school officials when two principals from Kaifeng No. 5 Middle School visited Lansing schools.
"It's really an honor to be able to help my school in these types of events," said Lin, who speaks two dialects of Chinese. "I want to thank all the teachers and administrators for giving me an opportunity to contribute to the school."
Lin, 18, was born in Fuzhou, which is near China's southeast coast, about 400 miles northeast of Hong Kong. In May 1995, Lin and his brother, now 22, moved to Missouri with their parents.
"They came over in hopes of economic prosperity and to achieve the American dream," Lin said of his father, Hua Lin, and mother, Rui Liu.
The family moved to Lansing three years ago, just before Tang Lin began his freshman year at LHS.
During evenings and weekends, Tang Lin often helps at the restaurant his father co-owns, China Buffet in Leavenworth.
Whether Lansing schools representatives and the Kaifeng guests were exchanging gifts, visiting classrooms or discussing Internet communication in an educational setting or less formal topics such as oatmeal, they could count on Tang Lin to offer clarification and insight.
LHS librarian Debra Hutton, who visited Kaifeng in March with a group of Lansing students and teachers, said LHS recognized the valuable contribution Tang Lin had made to the cultural partnership.
"I don't know that we could ever have been so lucky to find someone like him to help us out on this, because not only does he have the language skills, he has the people skills too," Hutton said. "In this building, he's kind of a rock star. He's really popular among the kids."
Tang Lin said the Kaifeng guests have showered him with many compliments about Lansing - its schools, its people and its aesthetics - during their visit.
His only regret about the visit, he said, was that it didn't include any students.
Original plans for the tour called for two students, two administrators and one teacher to make the trip from Kaifeng. Those plans changed because the students were unable to secure visa approvals.
"It was a disappointment for me and my friends," Tang Lin said. "One of the biggest objectives for both parties is for the students to experience both school systems.
"We've been waiting for this since last year. I wanted to see how the students would react to the American school system."