Winter lull nears on Main St.
Soon, Lansing residents will have their Main Street back for the winter.
Ken Miller, Main Street Project liaison, said all is on schedule for the Nov. 21 reopening of all four lanes of Main Street. The date marks the official end of this year's Main Street construction, but don't expect all the roadwork to stop, he told Lansing City Council at its Nov. 2 meeting.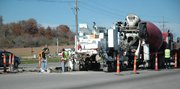 If winter weather turns out to be milder than expected, Miller said, Leavenworth Excavating and Equipment Co., the project's contractor, may have the chance to get a leg up on next year's construction. But any working ahead would require authorization from the Kansas Department of Transportation and would likely require stretches of unusually warm weather.
"There's a very good likelihood that you'd see a couple of lane closures here and there over the winter," Miller said. "If the weather is projected to be warm for three or four days a time it'll allow them to get in there and do little jobs that otherwise would be left - as the schedule calls for - for next year."
Miller mentioned minor projects like storm sewer work at Leavenworth Country Club and pre-construction preparation of the northbound lanes of the bridge over Seven-Mile Creek. Each project would require at most a short stretch of one lane to be closed, for at most a few days.
It would be nothing more, Miller said, than the continuation of Lexeco's habit of working ahead.
"If you're going to use the sports analogy, we're not playing catch up," he said. "We're trying to increase our lead."
Miller said that the fortunate weather that lasted through most of the summer meant the work crews lost very few days and built a lot of momentum. Some of that momentum was lost, however, during the rainiest weeks in October, when six construction days were rained out. But despite the rain, Miller said, the lost time presented no setback.
"We went from being very much ahead of schedule in all respects to being ahead of schedule in some respects and on schedule in others," he said.
When Main Street reopens to four lanes on Nov. 21, it marks the end of what has by and large been a stellar construction season, Miller said. In fact, he had only one hope that went unfulfilled this season.
"Really, looking back at the last five, six months, the only disappointment I've had is the fact that those bridge girders were delivered too late," Miller said.
But Miller said the small stumble in what would have been a big leap ahead of schedule for the project shouldn't dampen the excitement of all the growth and construction in the city.
"It's a boom time for Lansing - it really is," he said.
In other action, the council:
¢ Approved, 6-0, with Council members Don Studnicka and Dave Trinkle absent, minutes from the council's Oct. 19 meeting.
¢ Heard Nov. 11 proclaimed as Veterans of Foreign Wars Day.
¢ Approved, 6-0, hiring Project Explore for $16,350 to perform an educational assessment for the Kansas Regional Prisons Museum.
¢ Approved, 6-0, a motion to table an addition to the Lansing Technical Specifications and Design Criteria for Public Improvements.
¢ Approved 6-0, directing the Board of Zoning Appeals to hear an appeal from Kenneth Stevens ordering his shed removed as ordered by the Community Development Department.