Zink a playmaker in final game
Bonner Springs — Brad Zink had just played the best football game of his career, but he didn't want to celebrate.
Instead, the Lansing High senior wide receiver/defensive back walked off the field for the last time Friday night with tears in his eyes. Despite all the big plays he made and the countless momentum shifts he created in Lansing's favor, all he could feel was the bitter chill of a season-ending 36-12 loss to Kansas City-Turner in the Class 5A state playoffs.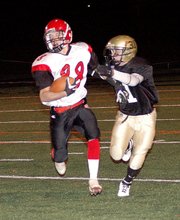 "It's not an individual effort," Zink said, dismissing the significance of his own play. "From my standpoint, the team did an excellent job fighting back in the second half."
The fact that Lansing even had a chance in the second half was due in large part to Zink's play. LHS trailed 24-0 at halftime, but the deficit could have been a whole lot worse. The Lions coughed the ball up three times in the first half, but Zink made sure they didn't pay for their sins on two of them.
Lansing threw an interception on the third play of the game and gave Turner the ball on the Lions' 25-yard line. Three plays later Zink responded with his first interception of the season. Later in the first quarter Turner recovered a Lansing fumble, but Zink took the ball back on the very next play with a fumble-recovery of his own.
"He didn't even think he was going to be playing defense this whole season," LHS quarterback J.T. Collins said of Zink. "Then he comes out and he's starting, and then he gets an interception and a fumble.
"He was playing hard. He was playing with his heart. That's what we needed everybody doing."
Forcing turnovers was only part of Zink's act. He seemingly did everything but throw passes and kick field goals.
Zink had a hand in big defensive stops. He recorded a career-high eight tackles, including five solo stops.
On offense, he threw a dynamite downfield block that sparked a 46-yard run by Collins in the second half.
"He's always been our best blocking wide receiver," said Bryan Shelley, Lansing's wide receivers coach.
Then there were the catches.
Zink caught a pass in the first quarter for a six-yard gain. He then hauled in a 14-yarder early in the third quarter that set up Lansing's first touchdown. His final grab - a sliding snag for a 29-yard pickup on fourth-and-long - gave LHS a first-and-goal at the nine-yard line and set up the second touchdown.
"Out of all of our receivers, he and Stephen (Didde) work the hardest, and it's been showing through the whole season," Collins said.
To put Zink's performance against Turner into perspective, it's worth noting that he caught 11 passes all season for 147 yards. Friday night he caught three for 49 yards. Defensively, he made 19 tackles all season. Eight of those - 42 percent of his season total - came against Turner.
"I had a feeling that this could possibly be my last game, and I did not want to go out feeling like I'd withheld something," Zink said.
Zink's final effort wasn't enough for Lansing to win the game, but it was more than enough to leave a lasting impression on his teammates and coaches.
"I couldn't be more proud of the guy," Shelley said. "I've had him for two years as a receiver and he goes out on a high note. The team didn't go out on a high note, but he can hold his head high for the rest of his life when he looks back at his high school career ending with a game like that."