Car-deer season in full swing
Don't tell Lansing Police Chief Steve Wayman that drivers should ignore warnings about the predominance of deer on streets and highways this time of year.
Each year, the Kansas Highway Patrol, Kansas Department of Transportation and local law enforcement agencies say the state's large deer population is particularly active during November and December and warn drivers to be alert for deer on the roads as they travel.
Each year, many drivers pooh-pooh the notion that they'll be involved in an accident involving a deer.
Last week, Wayman saw the damage a deer can do - and this time it was to one of his department's new Dodge Chargers.
Officer Richard Fairbanks was driving on patrol in the 800 block of West Ida Street about 3 a.m. Saturday, Nov. 11, when a deer rammed into his patrol car.
"He got a real wake-up call," Wayman deadpanned.
But officials are serious when warning drivers about the dangers of vehicle-deer accidents.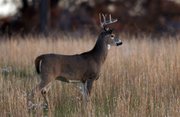 Leonard Ayres, a spokesman for the Leavenworth County Sheriff's Office, said officers are working an average of five to six accidents a day in which a deer is involved.
"It's just that time of year," said Ayres.
In 2005, Leavenworth County recorded 243 accidents involving deer that caused more than $1,000 damage to a vehicle. That was down from 270 in 2004, but it still made Leavenworth the sixth-ranked county in Kansas for car-deer accidents.
The Transportation Department says Kansas drivers should be on high alert especially Saturday, Nov. 18. The department has designated Saturday as Deer D-Day: the day deer-automobile crashes peak in the state. During the past decade, an average of 700 deer-vehicle collisions have occurred in Kansas on this date.
The Department of Transportation recorded 8,819 deer-related crashes in 2005 in Kansas, which is almost 13 percent of all recorded collisions.
KDOT encourages motorists to observe the following tips to avoid deer collisions:
¢ Be especially watchful at dawn and dusk, when deer are particularly active.
¢ Slow down to avoid a collision with a deer, but do not swerve. Most serious crashes occur when motorists take evasive action, which can lead to a loss of vehicle control.
¢ Elevate your awareness at locations with deer crossing signs, which indicate areas where heavily used deer trails cross roadways.
¢ At night, use high beams when there is no oncoming traffic, as they are more likely to reveal a deer's eyes.
¢ Deer seldom travel alone. Chances are if you see one deer crossing the road others are nearby.