After 38 years, retirement not in Logue's plans
Errol Logue bursts into laughter when he hears the question: "When are you going to retire?"
It's not like this is the first time he's been asked about it. Hopefully it'll be the last, but Logue knows the inquiries are unavoidable. As the founding father of Lansing High cross country, Logue is the only coach the program has ever known. He just finished year number 38.
After all those years, though, his answer to the retirement question is clearer than ever: "Not anytime soon."
At 65, Logue is about to start drawing social security, but he has no plans of sitting on the living room couch while the checks roll in. Instead, he'll check the mailbox on his way home from practice for at least a few more years.
Logue discovered a fountain of youth this fall in the form of freshmen sensations Brandon Craig, Lauren Jaqua and Abbey Lozenski. All three first-year runners advanced to the Class 5A state meet this year, so as long as they're around Logue isn't going anywhere.
"I feel just like Joe Paterno," Logue joked, referencing the 79-year-old head football coach at Penn State. "These young kids are going to keep me going for a while."
FIRST STRIDES
Logue has been involved with cross country for almost as long as the sport has been available to Kansas high school runners. The state started cross country in 1957 - Logue's sophomore year of high school at Wichita West, but he opted to play football instead.
"My father was an outstanding athlete," Logue said. "My whole life he was football, baseball and basketball. He wasn't so much (a fan of) track. All of my life I heard about what a great athlete Paul Logue was, and I was a disappointment."
Logue was too skinny for football, he said, so the coaches weren't interested in him. The football coach suggested he run track instead, so he did that in the spring and then went out for cross country as a junior.
He found some success as a runner. His mile time of 4 minutes, 37 seconds, was fast enough to qualify him for the Kansas Relays as a senior in the spring of 1959, but he finished last in a heat that included national champion Archie San Romani and Kansas running legend Bill Dotson. Logue finished last in the race. Ironically, 30 years later - to the day - his son, Matt Logue, would win the same race.
Logue eventually ran cross country and track at Friends University in Wichita. He didn't have much individual success during his college career, but he was the team captain as a senior.
"I was a mediocre runner," Logue said. "I had some fun, but I was very, very mediocre."
BRINGING THE SPORT TO LANSING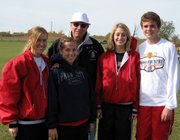 Logue launched the LHS cross country program in the fall of 1968. He has spent the past 38 years working with runners who were more and less talented than he was during his days as a harrier.
The program's heyday was in the mid-1980s to early 1990s. The LHS boys won three straight Class 4A state titles from 1986-88. Three runners also won individual state championships. Matt Logue claimed back-to-back titles in 1988 and 1989, Dawn Zimmermann won the girls' race in 1991 and Dave Bohlen was the 1994 state champ.
"I had the good fortune to work with some kids that were outstanding runners, and that's been fun," Logue said. "But you don't coach those people. You're just lucky when they happen to be here. You develop friendships and you help them along the way. That's what you do."
The champions stand out, but so do the runners of limited talent who make the most of what they've got, Logue said.
"There's a lot of kids that never win the state that win your heart," he said. "That's why you stay with it."
Logue said coaching his son was the most rewarding time of his career because of the bond the two men developed. Matt Logue now is the cross country coach at Girard High School.
"Coaching my son was great," Logue said. "It doesn't get any better than when you get to coach your son and he does well."
A MOMENT OF DOUBT
Last year, Logue admits, he considered hanging up his whistle after a prostate cancer scare. It's the only time he has given serious thought to retirement.
Logue attended the 2005 Class 5A state cross country meet with then-senior Ashley Mayes on Oct. 29. Early the following week he had surgery.
"The doctor said I was never in any danger, that the cancer was in the very early stages, but I'd never been in the hospital before," Logue said. "I was looking at that, and last year I was just thinking 'I can walk away from this and it's all right. I'm not going to miss it.' I don't feel that way now."
NOT GOING ANYWHERE
"I've got to tell you something funny," Logue says as the glimmer in his eyes burns through his sunglasses. "We were coming back from Girard, and I called Craig up and said 'What's your dad do for a living?' I said I wanted to know, because we get a lot of military families here and I want to know if you are going to be here for four years.
"He says, 'Oh yeah, I'm going to be here four years.'"
"He sat there for a minute," Logue says, bursting into laughter, "and he looked over at me and said, 'Are you going to be here four years?'"
Turns out, even Logue's crop of talented freshmen share the community's question.
"He said he's going to stay until I get out of high school," Craig said, recalling the conversation.
For Jaqua, the fastest 4000-meter runner in LHS history, it's important that Logue sticks around.
"He supports us so much and he knows what he's doing," she said. "I mean, he's been doing it for 38 years. He's just phenomenal : an amazing coach."
Not to worry, Logue reiterates, he's not going anywhere. He's having too much fun right now. He says the boys team boasts the most talent and depth he's seen at LHS since the state championship teams of the late 1980s. The same could be said for the girls as they gain more experience - experience they'll gain under Logue's guidance.
"I don't have any plans to retire right now," he says. "I tell everybody it's year-to-year, but it's too much fun."