Community Club helps mother of 8 celebrate 95th birthday
Amid tables brimming with homemade desserts and salads, there also were cards, flowers, gifts and a birthday cake topped with roses at the Lansing Community Club's November meeting.
And in the middle of the dozens of well-wishers, was the birthday girl - complete with a corsage and tiara - taking it all in.
On Tuesday, Nov. 14, club members celebrated the birthday of longtime Lansing resident Rose Jauernig, who will turn 95 on Nov. 25.
Club president Mary Ann Sherley said Jauernig was the type of woman who wouldn't let her age get in the way of contributing to the community.
"She's just always been sort of an inspiration, because she raised such a large family and she's always cheerful," Sherley said.
THE EARLY YEARS
Jauernig met her future husband, Paul, a German immigrant, when the two worked at St. Mary's College in Leavenworth. They married in 1935.
"Mom worked in the Academy, took care of the girls, and Dad worked on the farm," said daughter Rose Marie White, of Leavenworth.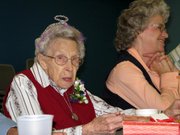 After following farm work to Louisburg, the family moved back to Leavenworth County and settled in Lansing in 1953.
The couple raised eight children: daughters Rose Marie, Paula Rose, Mary Louise and Helen; and sons Joe, Ed, John and Francis.
Jauernig also kept busy working from 4 p.m. to 7 p.m. at St. Mary's.
"After we moved to Lansing, she went back to work at the Mother House and stayed there for 23 more years," said daughter Sister Paula Rose Jauernig, of Leavenworth.
Oftentimes, the young ones tagged along.
"We worked in the cafeteria. She was the boss, had to see that everything got done, and we were the workhorses. We had a ball," she said.
After her retirement, Rose Jauernig became a regular at the monthly meetings of the Community Club, of which she's been a member for more than 30 years.
"Back when I was working too much, I missed the meetings," she said.
Rose Jauernig isn't the only club member in the 95-and-older group.
Lansing resident Myrtle Parsons celebrated the same milestone in August, and she was there Tuesday reflecting on their long friendship, which began in the '50s.
"I think she's a wonderful person. She's been a friend of mine for so many years, our children were friends together," said Parsons, prompting a response from Sister Jauernig.
"I saw a picture in one of the old Lansing Lions' yearbooks awhile back where you and Mom were in the kitchen getting ready for prom," she said.
Soon the laughs were flowing as Parsons remembered that evening.
"Her son and my son were juniors," she said. "We had three turkeys we made, and when Rose got off work, she came up there and just worked like heck."
Never one to let food go to waste, Rose took the turkey bones home to make soup, Parsons said.
"She left that night, and we just laughed, because we knew she'd have every dog in Lansing following her home that night," she said between giggles.
STILL GOING STRONG
Time doesn't seem to slow down Rose Jauernig.
Last week, she canned 24 pints of sauerkraut.
And she makes lap quilts.
"I've made six of them in the last couple of months," she said.
But those are just small projects, her children said. King- and queen-size quilts are her specialty. She's made more than 75.
Most of those quilts warm the beds of Rose Jauernig's large family, which includes 19 grandchildren, 34 great-grandchildren and two great-great-grandchildren.
Five of Rose Jauernig's children attended the celebration Tuesday.
They said longevity is a tradition in the family.
"Four of her sisters and her parents lived into their 90s," Sister Jauernig said.
Her children, who range in age from 55 to 70, also attribute their mother's healthy eating habits and busy lifestyle to her endurance.
"She's had wonderful health," Sister Jauernig said.
There have been a few setbacks though.
Last year, Rose Jauernig had knee replacement surgery.
And one would never guess, but in September, Rose Jauernig suffered a heart attack.
"They said they don't fix these old women's hearts, but the doctor said after he met her and her lifestyle, he figured he would give it a shot," Sister Jauernig said. "He put a stent in it."