Construction crews to limit work on Main Street project
Crews working on Lansing's Main Street are getting ready to ease off for the winter.
Ken Miller, the city's Main Street project liaison, said all four lanes of the street would be opened to traffic, weather permitting, on Tuesday, Nov. 21.
"It's part of the contract with KDOT to have all four lanes open during the winter," Miller said. KDOT is the Kansas Department of Transportation.
Pavement marking and other work associated with changing the traffic patterns is scheduled to take place Monday, Nov. 20, and Tuesday, Nov. 21.
Work on the two-year, $15 million project began in earnest in May.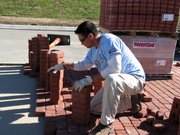 Since then, under the direction of Leavenworth Excavating Co., the lead contractor for the project, crews have reconstructed the western half of the bridge over Seven-Mile Creek, done median work from Ida Street to near De Soto Road and constructed a "reverse frontage road" north of West Mary Street to West Kansas Avenue.
After the Thanksgiving holiday weekend, work on Main Street medians is scheduled to continue and may cause short, intermittent lane closures.
The winter work limit is one of four time-sensitive restrictions set out in the state's contract with Lexeco.
It specifies that Lexeco must adhere to a winter shutdown period from Nov. 22, 2006, through March 5, 2007. During that time, all lanes, local accesses and local roads within the project limits must be open to the public.
Work will be permitted if it does not interfere with traffic.
Failure to adhere will result in Lexeco being liable for liquidated damages of $2,000 for each day the restriction is not met.
The restrictions won't necessarily mean work on the road will shut down, Miller said.
Work can continue if Lexeco gets approval, Miller said.
"Lexeco can go to KDOT and get permission to do little jobs," Miller explained about winter work. "It might be shutting down a lane or two for 500 feet or so."
Miller is reminding Main Street pedestrians heading north or south over 7-Mile Creek Bridge to cross to the west side of Main Street to take advantage of the new sidewalk. Work crews will block passage on the east side of the bridge for safety reasons.
Hotline to continue
The city's Main Street 24-hour hotline will continue to be updated throughout the winter.
Ken Miller, the city's Main Street project liaison, said the hotline will be a source of information for work that crops up "when there are three or four days of weather in the 40s or 50s and no chance of snow in sight."
The hotline number is 727-3286.