Lions hope to take next step in '07
The Lansing High football team has made it to the state playoffs three straight years, but all three of those postseason appearances ended with losses in the regional championship game.
The challenge for next year's squad is to find a way to take the next step and advance to the state quarterfinals or beyond.
"We hope that being in the playoffs becomes an expectation," Pekarek said. "But if we're going to get past where we are, then we have to do some things better."
Some of those things Pekarek referred to involve strategy. Others simply boil down to preparation and focus.
Pekarek hinted that more offseason commitment from players would make a difference, as was the case with the 2005 season when most of the Lions practically lived in the weight room during the summer.
"The road to a championship goes through that weight room," Pekarek reminded his players Nov. 7 at the fall sports awards banquet.
All indications are that the players plan to make that commitment.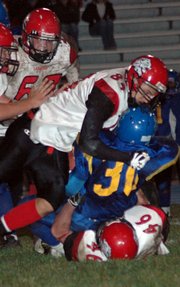 "We've got to definitely hit that weight room up and do whatever coach wants us to do to make us better so we can play to our potential," said junior defensive back Tim Torchio, the Kaw Valley League's interceptions leader.
The Lions lose a talented 12-member senior class that is expected to send at least a handful of players to the college ranks, but a majority of the starting lineup will return in 2007.
"We're going to have way more experience next year because we have so many juniors (who started this year), so we should have high expectations," said junior linebacker David Dickson, the No. 6 tackler in the KVL this season.
LHS will return an experienced offense with linemen Mycol Bowen, Zach Robinson, Cody Rush and Brendan Becker and receivers Stephen Didde and Bobby Hauver. The Lions also will have arguably the top returning backfield with tailback Chris Hill and fullback Brad Terron.
Defensively, the Lions also will be deep. Dickson will join Terron (52 tackles) in leading the linebacker corps. Torchio (five interceptions) will be back in the secondary alongside Hauver. Bowen (51 tackles) and Tyler Strouhal (52 tackles) will be back on the defensive line and Justin Smith (46 tackles) returns at defensive end.
Given the fact that Lansing will return so many starters with so much experience next year, comparisons to the 2005 team are unavoidable. In fact, the players have heard it for a long time.
"Our class has been compared a lot to (that senior) class," Torchio admitted. "We just want to come out and play as good as them or maybe even better."
The difference between the classes - besides the obvious difference in individual composition of the teams - is that the 2005 and 2006 squads helped create playoff expectations in Lansing. Next year's seniors lived with those expectations and hope to take it another step.
"We've got a great bunch of guys," Pekarek said. "We had a senior class that was small, but we lost some pretty good players in that group. We've got a pretty good junior class. A lot of them got some experience as sophomores and now they've got a lot of experience as juniors, so that experience has to pay off."