Parking relief on schedule for
LHS
A parking crunch caused by construction near Lansing High School is on schedule to see some relief early next month.
Dale Bohannon, the district's director of maintenance and capital improvement, told Lansing School Board members he was hopeful a new 42-stall parking lot at Lansing High School would be completed by Dec. 1.
"That does depend on the weather," he said. "We really need to get it finished."
District officials are hopeful the additional parking spaces will alleviate some of the parking woes at the high school, which saw a loss of up to 120 parking spaces after construction began earlier this fall on a new auditorium at the school.
The board, which met Monday, Nov. 13, reviewed a construction phase report, which included updates on the auditorium and band room at the high school; the new parking lot; the new elementary school on West Mary Street; and the New Beginnings special education cooperative building.
Bohannon said the pad at the elementary school was recently completed.
Board member Rob Nicholas asked Bohannon if the construction projects were on schedule.
"With the elementary, yes, the high school - as some of you know if you've ever done any remodeling work - there are things sometimes you find that you didn't know were there, so you have to move them, or lower them, raise them or move them out of the way. We've about passed that stage. Everything's on schedule. Everything's moving," Bohannon said.
Board member Craig Gephart asked Bohannon if there would be any construction liability or maintenance impact on the district related to wear and tear on West Mary Street caused by construction vehicles at the elementary school site.
"No, there shouldn't be," Bohannon said.
Bagby told the board that New Beginnings moved Nov. 6 into its new location at 1102-B Industrial Ave.
"The kids seem to be happy, and the teachers and the staff are happy," he said.
New Beginnings will play host to an open house from 3:30 p.m. to 6 p.m. today, Nov. 16.
All seven board members were present for Monday's meeting.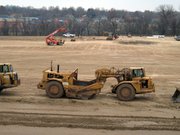 In other action Monday, the board:
¢ Approved payment to McPherson Contractors. Bagby said he would submit the payments separately from the other monthly bills so that board members could stay apprised on the district's construction projects. November invoices totaled $198,096.30 for the elementary school construction and $119,108.70 for the auditorium and band room construction.
¢ Approved a financial auditing contract with DeMaranville & Kramer CPA's LLC, of Leavenworth, for financial years ending June 30, 2007 and 2008. The contract's estimated costs are $8,050 for the initial year and $7,700 for the second year. The district has been working with the firm more than a year, and Bagby recommended the firm for the required annual independent audit, in part, because it could perform additional services throughout the year. For example, Bagby said, the firm could assist the district with purchasing compliance as well as accounting compliance. "We've found them to be very helpful, customer-friendly, and they've done a good job," he said.
¢ Heard acknowledgements from administrators.
¢ Reviewed a report on the construction fund.
¢ Reviewed administrative reports from the building principals. Dike announced that LHS science teacher Carolyn Pearson accompanied a group of seven students to the Avila Science Competition, where they placed fifth overall. The Leadership Council's annual Trick or Treat for Kids played host to 300 community children, and its annual Trick or Treat for Cans yielded 2,222 pounds of canned goods for the Leavenworth Assistance Center.
¢ Accepted an eMachine computer donation from Wal-Mart.
¢ Received an updated electronic copy of the Board Policy Handbook.
¢ Met in executive session for 20 minutes to discuss personnel issues.
¢ Approved appointments of Dustin Myers and Doug Faught as assistant boys basketball coaches at Lansing Middle School.
¢ Approved a request by LHS social studies teacher Tracy Hutton to be released from her employment without penalty.
¢ Approved applications for out-of-district students to attend Lansing schools.
¢ Approved the substitute teacher list.
As part of its consent agenda, the board:
¢ Approved minutes from the Oct. 10 board meeting.
¢ Approved bills for the month.
¢ Approved the clerk's financial, treasurer's, investment securities and miscellaneous reports.
¢ Approved the resignations of custodians Gerald Emerson and Katherine VanBuren.
¢ Approved recommendations to hire custodians Elaine Shea, Cassandra French and Raymundo Barreras; and cooks James Horton, Cindy Williams and Carole Keen.