Super Bulls
Red Bulls edge Blackhawks in all-Lansing Super Bowl
Leavenworth — The Lansing Red Bulls and Lansing Blackhawks took pride in playing hard this season, and there's no greater indicator of hard play than good defense.
Both teams played plenty of D during the Northeast Kansas Athletic Association's fifth- and sixth-grade Super Bowl, but the Red Bulls used a fumble recovery and a big defensive stop to set up two touchdowns in a 14-0 victory Saturday night at Abeles Field.
"We just caught a few breaks tonight," Red Bulls coach Rick Schneider said. "Our defense has held us all year, and we were able to come out offensively and attack the ball on offense and punch a few (touchdowns) in. I think that made the difference tonight."
The Blackhawks took possession first, but then turned the ball over on third down courtesy of a fumble. The Red Bulls capitalized on the miscue with an eight-play, 59-yard drive that was capped by a one-yard quarterback sneak by Lucas Mein. The two-point conversion attempt was unsuccessful, but the Red Bulls led 6-0 with 1:15 left in the first quarter.
Neither team scored for the rest of the first half as each defense forced a turnover.
The Red Bulls started the second half in similar fashion to the first by scoring on their opening possession. This time it was an eight-play, 56-yard drive that was sparked by a 17-yard scramble by Mein and a steady barrage of runs by Joe Schneider, Tyler Ayres and Zach Jackson. A six-yard scamper up the middle by Schneider gave the Red Bulls their second touchdown of the game. Mein then ran for the two-point conversion and made it 14-0 with 3:52 left in the third quarter.
Blackhawks coach Bryan Pettis said the Red Bulls' offense was impressive.
"The Mein kid is tough to stop, and so is Joe," Pettis said. "I'll tell you what, their offensive line was good, and they made it hard for us to stop them."
Each defense stepped up for a remainder of the half. The Red Bulls forced one turnover and the Blackhawks forced two.
The Blackhawks used a fumble recovery to spark their best offensive drive of the game late in the fourth quarter. They blended a few nice runs with a few penalties to move all the way to the Red Bulls' nine-yard line, but they were unable to reach the endzone.
Both teams ended the year with matching 7-2 records. Both of the Blackhawks' losses were to the Red Bulls.
"You know what," Pettis said. "A Lansing team won, and that's a great thing.
"I'm proud of the Lansing Blackhawks. I'm proud of the Lansing Red Bulls. I'm proud of Lansing White. Three of the four teams in the semifinals last week were from Lansing, and that's a heck of a thing to build on. We've got to keep it up."
Both coaches were in agreement that the all-Lansing Super Bowl showdown was something special. They said is shows the players have a bright future ahead of them on the football field at Lansing Middle School and Lansing High School.
Photo Gallery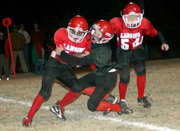 Super Bowl: Red Bulls vs. Blackhawks
"All of these kids someday will be playing together," Schneider said. "They're forming great relationships and great skills now, and it's going to be wonderful."
Members of the Red Bulls are Lucas Mein, Nathan Reardon, Joe Schneider, Kyle Hallinan, Matt Moriarity, Shawn Guthrie, Elijah Parks, Evan Hofer, Isaac Doolin, Tyler Ayres, Zach Jackson, D.C. Depaolis, Connor Schmidling, Sam Sheaks, Cody Motley, Mel Spezia, Drew Goebel, Zach Blake, Riley Weeks and Chase Taylor. They are coached by Rick Schneider, Mark Ayres, Paul Hofer, Brian Jackson and Gordon Mein.
Members of the Lansing Blackhawks are Clayton Bogner, Ashley Mansil, Tanner Sherman, Hunter Bramblett, Tim Roberts, Jr., Anthony Galliart, Brian Courtney, Dontae Gibson, Mathew Combs, Jason McAlexander, Cole Portenier, Kyle Lansing, Adam Patterson, Nick Campbell, Aaron Denney, Dustin Jostmeyer, Geno DeGraw, Gunner Beck, David Meredith, Aidan McLoughlin and Teddy Pekrul. They are coached by Bryan Pettis, Rich O'Donnell, Tim Roberts, Sr., Doug Portenier and Al Logan.