Community bids farewell to volunteer
Friends remember Bob Wiley's many contributions
Robert D. Wiley, war veteran, longtime Basehor resident and active community member, died last Thursday, Nov. 16. He was 81.
His death was felt throughout the community, which turned out Monday for his funeral service. And friends and family describe him as someone who always was ready to help, whatever the need.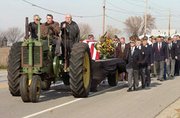 "Anytime anybody needed any help he was there," said Fred Box, the local Veterans of Foreign Wars commander and lifelong friend of Wiley. "He was a great friend to everybody in this town. He was a giver."
Mr. Wiley died from pulmonary fibrosis, a complication caused by rheumatoid arthritis. At the time of his death, he was surrounded by his family at Providence Medical Center. He had spent about a week and a half in the hospital before to his death.
Mr. Wiley was born Oct. 22, 1925, the son of Loran and Beulah (Diggs) Wiley in Hawleyville, Iowa. He was drafted into the U.S. Army in 1943 and served in the European Theatre with the 71st Infantry Division in World War II. He worked as a farmer for several years before moving to Basehor in 1954 to become a carpenter. He also owned Basehor Glass and Aluminum before retiring in the early 1980s.
Not only was Mr. Wiley instrumental in forming the Basehor VFW Post 11499, established in 1993, but he also gave the post a place to call home. He offered the building he owned with his wife, Lela, at 2805 155th St., to become the permanent VFW hall.
"He built this VFW from nothing," Box said. "He loved his VFW."
Wiley also served as VFW commander from 1996 to 2004. After handing the reins over to Box, Wiley remained an active member.
"It does cut down on other things," Wiley said in an interview with the Sentinel in 2004 about his active role in the VFW. "But if it's something that you have an interest in, there's always a way to make it happen."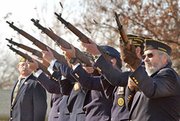 He married Lela Marie Brown (Anstey) on Nov. 7, 1946, in Corning, Iowa.
The couple, who just two weeks ago celebrated their 60th wedding anniversary, were described as an "inseparable pair." The couple were involved in each other's lives. They raised their four children, sons, Dennis and Lyle, and twin daughters, Mary Leonard and Marie Heath, in Basehor.
John Deere tractors remained a favorite of Mr. Wiley's, and Lyle Wiley recalls fond memories of going to tractor pulls with his father.
"One of the sayings he used to have when we were working together was, 'I won't have you do anything I won't do myself,'" Lyle said.
Box and Jeral Cooper, another longtime and dear friend of Wiley, said his energetic nature and sense of humor made him loveable to everyone, especially children.
"Bob always had a sense of humor," Box said. "He could get people going."
"He had a great rapport with everyone he ever met," Cooper said.
One last tribute
Mr. Wiley was involved in numerous other community organizations, including the Basehor Kiwanis Club, Basehor Lions Club, Basehor PRIDE, the American Legion and the Fraternal Order of Eagles. He was a member of the Basehor United Methodist Church, served as one of the directors of the Basehor Museum and Historical Society, treasurer of Consolidated Rural Water District No. 1 and was a lifetime member of the Fairmount Township Volunteer Fire Department.
A celebration of life was held Monday morning at Basehor United Methodist Church, and almost 600 people came to the visitation Sunday.
"I expect it's one of the largest funerals they've had," Cooper said.
After the church ceremony, a hay wagon pulled by a John Deere tractor, which Mr. Wiley inherited from his father-in-law, took the casket from the church to Glenwood Cemetery.
A fire truck lead the procession south down County Road 2, which was lined with flags. The VFW Honor Guard marched on either side of the wagon, and members of both the Basehor and Tonganoxie VFW posts, along with members from the Fairmount Fire Department, followed behind. He was buried with full military honors, including a 21-gun salute and "Taps." Box presented a flag to Mrs. Wiley, and Jeff Theno, Fairmount Township Fire Department chief, presented the firefighters' flag to Lyle, who is also a member of the department.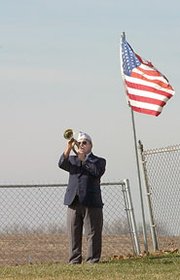 The Basehor City Council observed a moment of silence for the Bob Wiley family before the beginning of Monday night's meeting.
"He's the type of person who makes a community what it should be," council president John Bonee said. "We'll miss him."
Words of wisdom
Mary Leonard, one of Mr. Wiley's daughters said it was important to him that people knew he was not ready to give up his fight against rheumatoid arthritis, but his doctors told him he would not live much longer.
She said his large family who "sticks together like glue" had the rare gift of saying goodbye to him.
"He was told Monday, November 13th, that he could not get well," she said. "Knowing that, he began to give us instructions. He told us he had left too many things undone."
She said they all got a good laugh when he told them to take care of their mother, to buy her a better car and not to let her drive it all over the place. He told his grandchildren to take care of their children, and he offered a piece of advice to all of the great-grandchildren who came to say goodbye.
"He said, 'Leave a good trail,'" she said.
"Daddy left a good trail."